Day 3
Our reason for coming to Akumal 1st before Playa was to gear down and relax. My body clock just did not cooperate with my mission. So I got out early and took some pics of sunrise on the bay.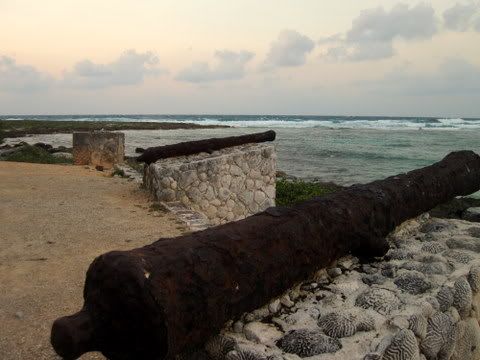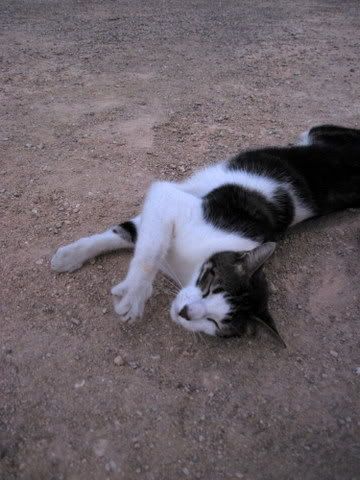 I turned my back to the sun coming up and caught the moonset.
This is #26 bungalow on the right side. Did I say earlier it was perfect for us?
I do not remember what this was called but it was kinda like breakfast enchaladas. Rudy the waiter said it was one of his favorites so yaknow I had to see if he was just tryin' to get a big tip or somthin. Turns out he was. OMG
After breakast, we headed to the beach for an early snorkel before the tours come 'round. The wind was still kickin it but with just another full day in lil ol A, I had to get out. My Canon D10 that took every frickin pic you see on this TR perfomed absolutely flawless. I saw these 2 grazin in the grass around one of the tieup bouys.
Can you see the tag on left front flipper on the above?
Headed out to the reef next.
I think this dude thought I had a doggy bag w/ me.
We hung out under the palms til we felt like toasted wheaties then cleaned up and headed to a La Cueva for Rita's and an early dinner of grilled Pescado e ajo. On to Happy Hour at Lol Ha main restaurant. A Cuban band was setting up so we hung out on the veranda to listen. After the hour sped by, the manager ask us if we wanted to come in for another Feliz Dias mojito. The music was mucho bueno so hey, somebody had to do it.
Day 4 Our last full day in Turtle Town
We had contracted with a taxi driver the night before to take us to Dos Ojos for cenote snorkel. After breakfast, we decided to let him take us to Yal ku instead. Even though we have never done Dos Ojos, Rosie had not done any snorkeling and she and I both love the upper end of the lagoon so I saved what I thought was a bit of a ripoff $50 US 1 way to tbe cenotes. We got there around 9am so we were by ourself for awhile and it was amazing.
We worked our way towards the reef and rested on an entrance and saw this dude chekin out breakfast.
I got a little sea sick as I got out closer to the mouth of the lagoon. I guess the wind did not mix well with my Rita's e Mojito's from last night. So we headed back to our chairs on the bay.
We both got a club sandwich at the Lol ha snack bar for dinner. I'm not sure if it was the view or what but it was one fine club.
We headed back to our La Cueava to tell everyone goodbye until next year. Caught an awesome Mariachi band and got some desert at Turtle Bay Cafe.
One more sleep then on to PDC. WooHoo