Ahhhhh......the colour of the water!!! I just gazed it at all the way over on the ferry.
The Posada is a very short walk from the ferry pier once you dock in Isla....we retrieved our bags from where they store them at the back of the ferry then walked the 3 or 4 short blocks to the hotel (packing light is a good idea if you are doing this...in the heat with one rolly suitcase and a fairly large beach bag carry-on, I was pooped!). There of course are cabs you can grab for about 35 pesos or a fellow with a tricycle for tips.
Our friends were staying at a hotel that was virtually next door to us, the Privilege Aluxes. It was a lot more $ when we booked our package but when they booked a month ahead it was only around another $100 each...so they pounced on it. The Aluxes is very nice, quite sleek and modern in style, elegant- whereas the Posada is more of a Mexican style hotel.
We were a little concerned about the logistics of meeting up all week, but it turned out great- we still hung out together as a foursome most of the time, but had our separate places to escape to when we wanted some couple time. We would just arrange where and when to meet each previous meet-up. And oddly enough, no one seemed to mind when we would hang out with them at the beach club or pool! At least, they didn't notice...we certainly never asked permission!
Pics of the Posada del Mar....our room was on the ground floor of 'the New Building'....
The room was fine, basic but clean, a fairly comfy king bed. The bathroom and shower was my only complaint- it was too open! There are some things couples don't need to overhear.
The pool area has been recently renovated.
The palapa bar next to the pool was our regular happy hour meet-up place. Here is Don with his book and ever-present lime peanuts! It was VERY quiet at the hotel...usually we had the pool to ourselves. Bonus!
And of course, there is Romy (Romi maybe?)....the BEST little bartender in all of Mexico, IMO....of course, I am biased.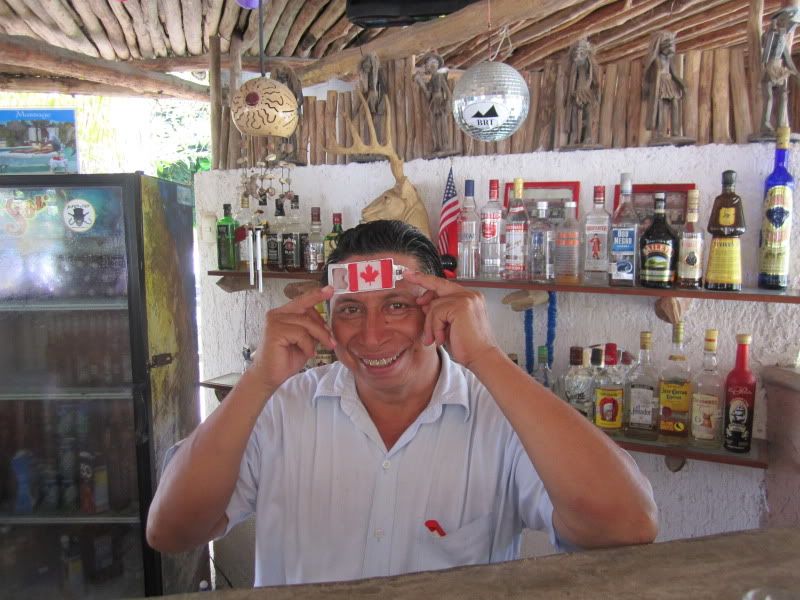 He is a great guy and we really enjoyed hanging out with him....since the four of us were often his only customers, we had a lot of time to chat with him!
There were a lot of doves at the hotel....and a ton of grackles. One of the grackles made a sound like a cordles drill up in the palms...freaked me out the first few times I heard him! Not sure if it was imitating a noise it heard during construction...or that is just a noise they norrmally make? They sure have a large repertoire of sounds.
White doves cooing on the unfinished palapa...oh and did I mention the pigeons?? Everywhere!
The hotel is right across from a lovely beach. This beach faces the mainland and you can easily see Cancun. The hotel apparently has a beach club but we never looked into it, since we would go down to the Privilege beach clubs to join Cindy and Jason to hang there, or to Playa Norte.
view from the restaurant