Day 4 Part 2:
We head out and decide we want to go to Tulum. I can't think of anything except food at this point & it's Pollo Bronco, without question. We split half a chicken and each get a potato and Fanta (ice cold in the bottle) as well. Delicious doesn't even begin to describe my love for Pollo Bronco. I make little tacos out of chicken, rice, cabbage and salsa. This leads to splitting a 3rd Fanta. We are completely stuffed to the gills – oh, wait, Russ saved a little space for what has to be the best ice cream EVER – Flor de Michoacan. We always get fresa. I'm serious, this is a MUST if you love ice cream! They sell all kinds of fresh goodies in there.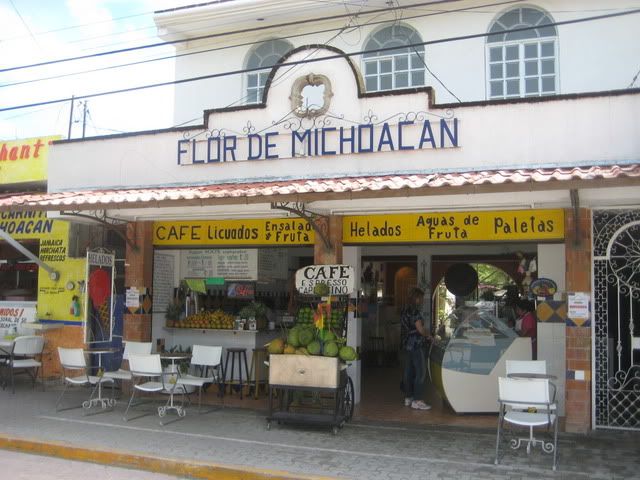 (We found out there's one in Playa also but it was a bit out of our way by the time we knew this.) Being in Tulum also means a trip to Mixic, one of my favorite stores. I found 2 handmade plates and bowls with a half off sale marked down to $50 mx each.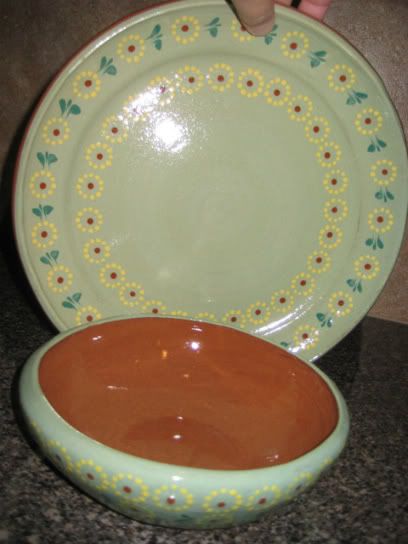 I also got a really cute small clay painted mermaid there.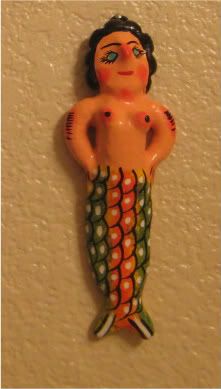 We want to go hang out at the beach somewhere in Tulum but we don't know where so we drive to El Paraiso but then we started bickering about something & pulled out & drove the beach road all the way in the other direction trying to decide where we wanted to go.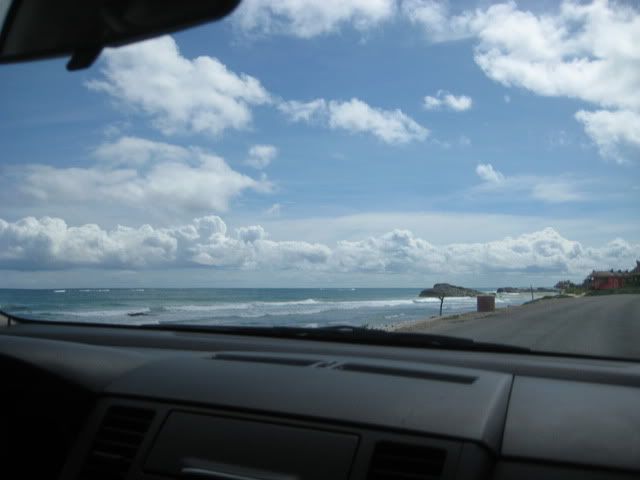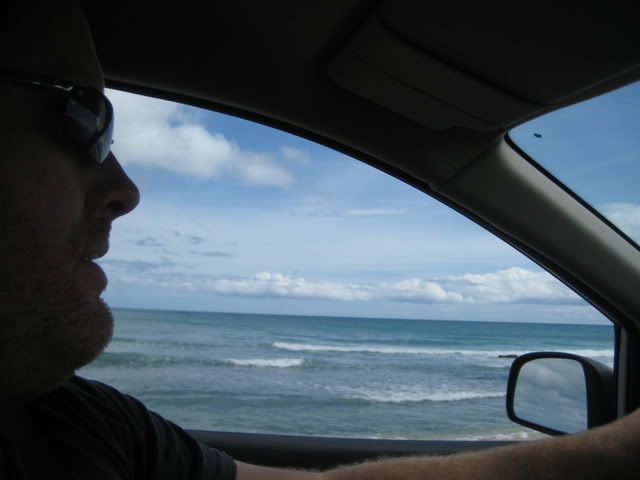 We always enjoy looking at all the little cabanas and talking about which ones we would like to stay in.
I'm tired & we're still bickering when we get to the big rock thingie – Russ gets out to take pictures but I stay in the car & relax. He got some great pictures!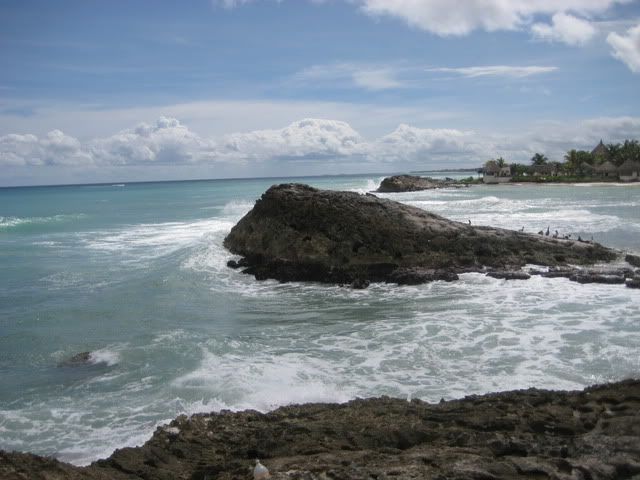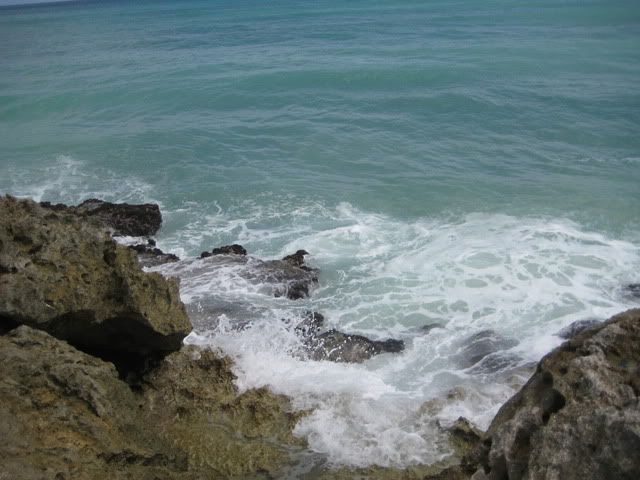 We decide to go to Ziggy Beach and check it out. Unfortunately when we got there only the bar area was full, the beach area looked kind of abandoned. There was no cover to be had and there didn't seem to be any wait staff for the beach. We decided to just leave.
We don't really know where to go from there so we just head back to El Paraiso. On the road back: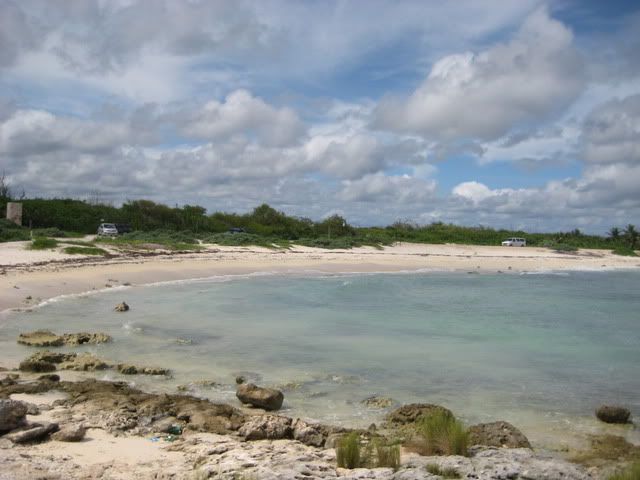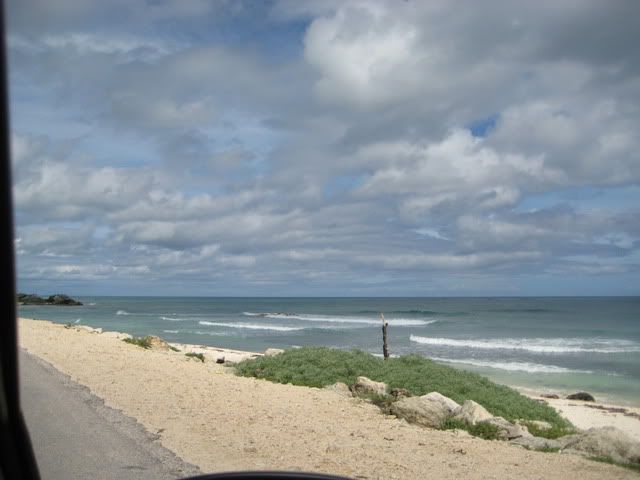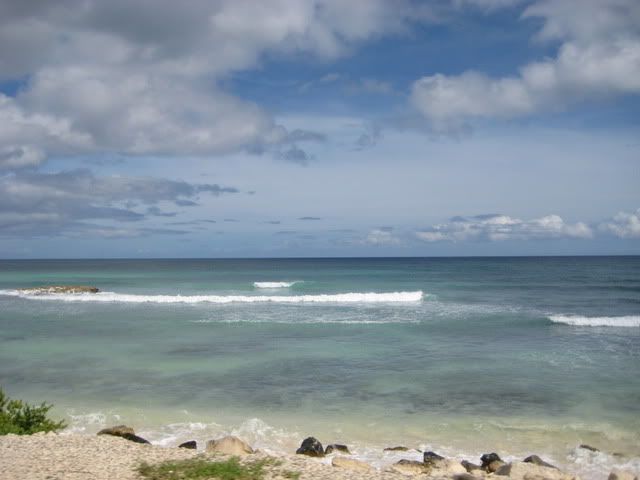 We get El Paraiso and since the last time we were there they have apparently changed owners, managers or something. It starts with a "security guard" for the parking lot. He approaches us and tells us it's going to be $50 pesos to park there…I'm in no mood for this BS and I tell Russ to forget it, we'll just leave. I'm not giving this guy anything to park here. The "guard" says the equivalent of "wait, wait let me explain…" and proceeds to tell us that if we bring him back proof that we bought chairs, bebidas, whatever there is no charge for parking. Fine, we were going to buy drinks anyways.
We get to the beach area and are just looking around not sure where to sit. We want to know how much the chairs & beds are but no one is even looking at us. Finally I approach a waiter but another guy (the manager?) interrupts and asks if he can help us. We ask about the beds and he decides to give us a deal on the bed & umbrella based on how late in the day it is which makes it the same price as the chairs. Ok, cool. He says he will send a waiter over to help us.
I lie down on the bed because my cranky ass needs a nap. I can appreciate the vinyl covering on the bed & pillow because it's a lot cleaner than the cloth ones, but it made me SO SWEATY it was impossible to sleep. I was so tired I still just lay there sweating, letting the little sand fleas crawl on me until I feel it start to rain. It's been a while now and I look up at Russ – "why don't you have a beer?" he says no one has come by. They are clearly understaffed and I think 2 or 3 waiters were serving the whole club. But they are serving a couple of very large parties and so we are not even on their radar. The one who was supposed to be our waiter walked by us at least 15 times, not once ever stopping.
It starts to rain so I have to get up & sit under the umbrella. It doesn't last long though and in between showers we get some pretty good pictures.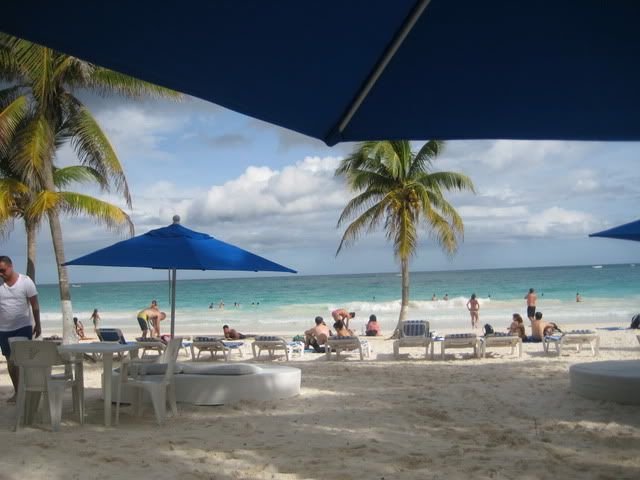 Finally I tell Russ to just go to the bar, where the "manager" is tending bar. Russ gets us a couple of drinks & the guy asks Russ if he wants to start a tab. Sure, why not. He assures us a waiter will be by.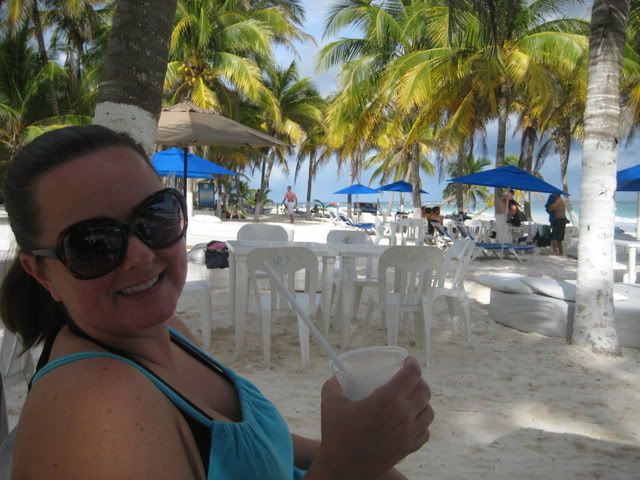 Hi waiter. Bye waiter.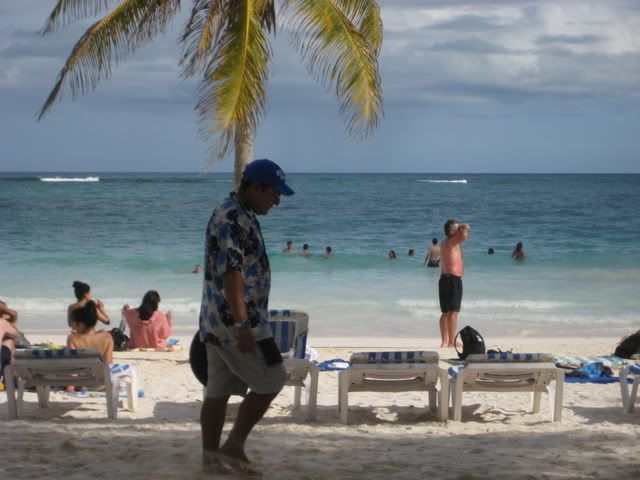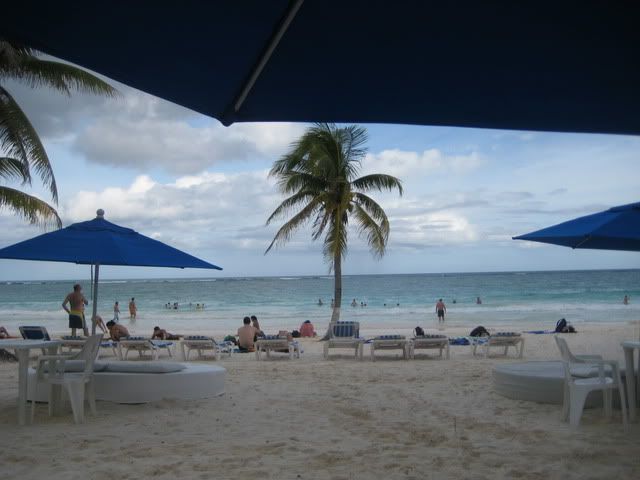 NOW LOOK AT THIS GEM – not just a rainbow,
A DOUBLE RAINBOW!!!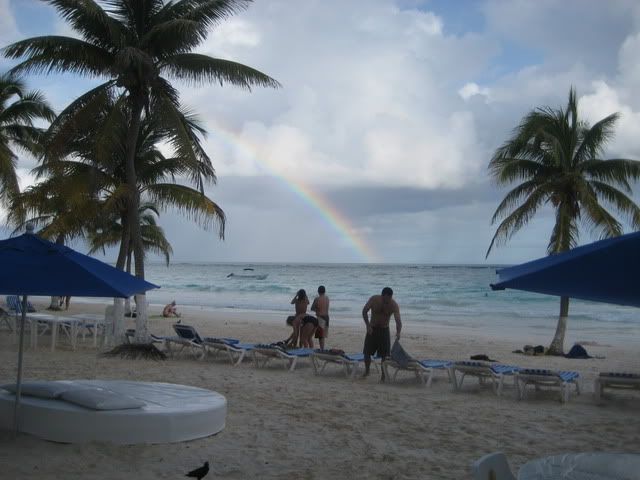 Now, see the girl in the blue bikini taking a picture of that guy? She and her girlfriend take turns non-stop taking pictures of each other jumping and posing for the camera, then of their friends until it started to rain. Ok, remember her.
Our waiter finally came around as we were ready to leave. I think he had brought us a drink, maybe 2 out of 4. We were still leaving a good tip and then all the sudden we were very interesting and he even offered to take our picture in front of the rainbow. He was a really nice guy, I think he was just caught up in things.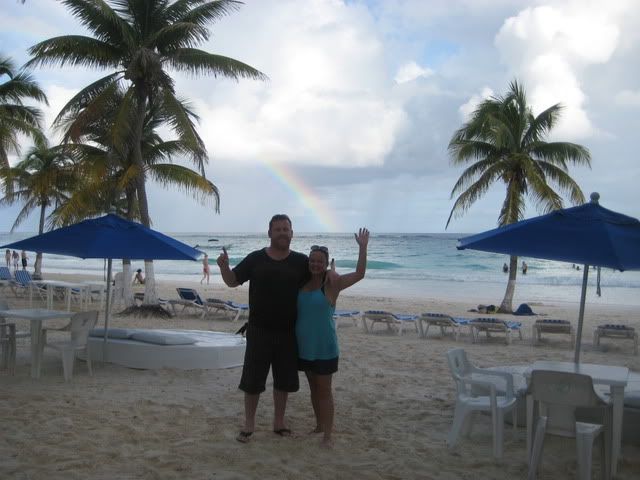 Our total tab for a total of 6-8 drinks and the bed was outrageously expensive. Overall with the lack of service and what we had it was a really bad value. We probably won't go back there, we surely don't remember it being THAT expensive and we had really good service last time. That's really too bad because it's very pretty there.
They also charge for the bathroom now, even though it's only like 5 pesos. They may have let us in with a wristband but we only got one wristband which would require me to walk him to the bathroom.
We almost forgot to ask for the proof so that we don't have to pay up to the "guard". When we get to the parking lot he isn't around but he is right at the exit so no one slips out. We show him the ticket and as we're showing him, the girl in the blue bikini says, "You speak English?" We reluctantly say yes…she's half heartedly looking at us and says "you're going to Playa?" ummmmm, yes…and in a way that we found to be very presumptuous and "UGH" for lack of a better term, she says, "you take us to Playa and I give you some money?" UM NO. Without missing a beat I say, "no we have to stop somewhere first, sorry." and roll up the window and we drive away. Russ and I were laughing our asses off – you really need a better, less lazy plan than hitchhiking back from Tulum. Get your ass on a collectivo sister.
Since we have the car I also want to go to Vidrio Soplado and get some glassware to take home. We pretty much know where it is but it's getting dark and rainy and we turn too soon. We have to go back around again and we find it the 2nd time. Lucky for me they're open and I'm in heaven! I get 8 more of the confetti glasses I love in different sizes and 4 turquoise glasses. 12 glasses set me back a whopping $352 pesos.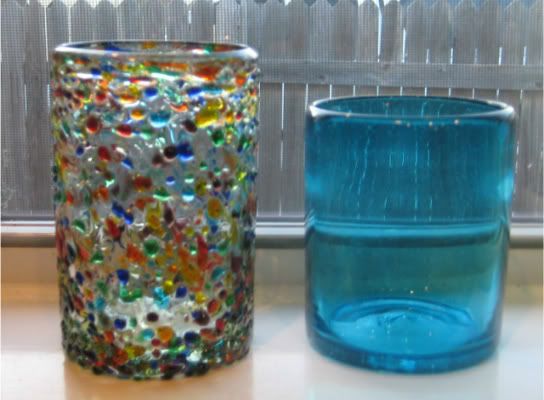 Then I found some gorgeous solid blue glass droplets hanging from a spiral hook display. I think there were 10 and I bought them all, $20 pesos each. I'm going to hang them from the ceiling. Pics to come later.
While we had the car we might as well stop at the Mega. On the way out the guy that sells tours stops us and tells us that since we bought an 18 pack of Sol we get a free beer mug! He helps us go to the customer service desk and get our mug, which they were reluctant to give up. That was so nice of him!!!
I'm not recalling dinner, it was a pretty long but really fun day!