Day 6:
Today we decide to go to Puerto Morelos. Iíll be honest, I would like to go but donít really want to go
today
. But itís our last full day and itís pretty outside so weíre gonna give it a shot. We knew it was good for snorkeling but didnít know a lot else about the spot. We gather our gear and walk to the collectivo stand and take that to the highway drop off point. We arenít sure how long the road is from the highway to the beach but we think we can just walk it. My advice, donít do this, itís a pretty long walk!!!
Itís a really nice day, the water looks beautiful.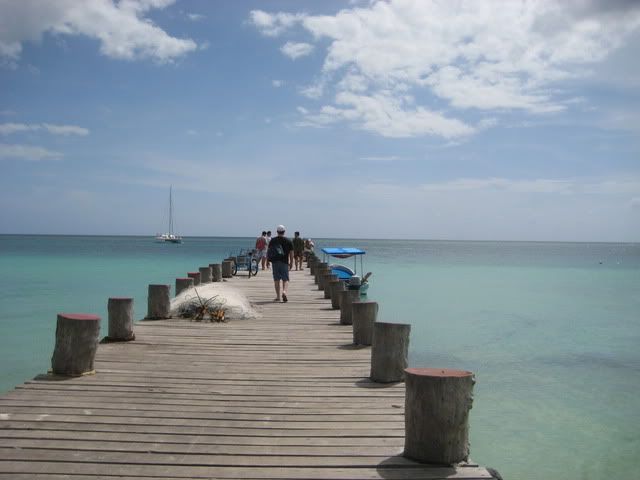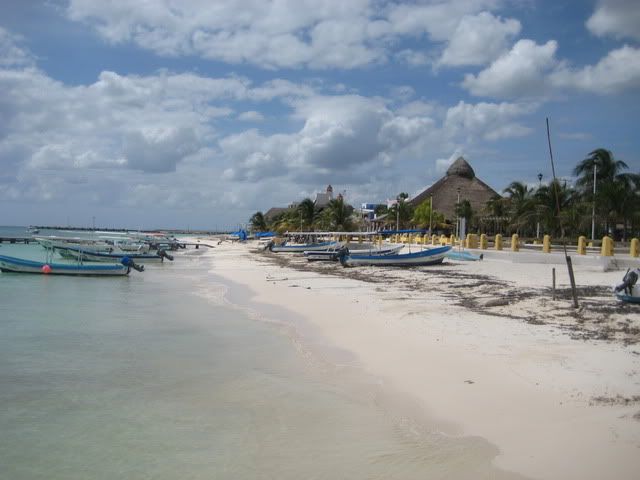 Weíre pretty hungry so we go to the most obvious place, Pelicanos. I think we saw on the Mapchick Map (which are AMAZING!) that it was pretty good so we give it a shot. We order a shrimp cocktail, club sandwich and some drinks. It didnít list what was on the club sandwich on the menu but we figured itís a pretty standard sandwich and couldnít vary much from place to place. WRONG. This sandwich had some kind of lunchmeat, I forget but I think it was ham but thatís where the familiar items stopped. There was some VERY weird brownish colored sauce, something that was pink / purple in color but wasnít onions, (we still have no idea what it was) and fried egg. There was no cheese, no bacon, no lettuce or tomato that I can recall. It was completely inedible in my opinion, Russ thought it extremely weird but still ate it, I donít know how.
Back on the beach.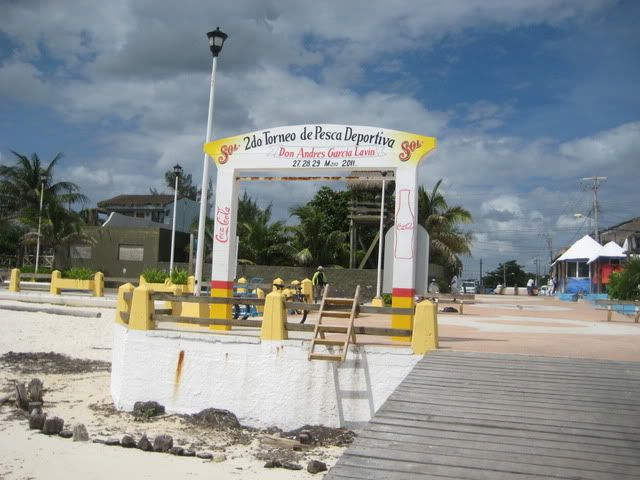 Iím kind of embarrassed to admit this, but I really really didnít feel like snorkeling. I just didnít. It was a 2 hour deal, Iíve only been snorkeling once and to be honest, it kind of scares me. I offered many times to entertain myself while Russ went, and I sincerely meant it Ė but he said he really didnít want to go without me, that it just wouldnít be very fun. So I feel bad, we walk around the town a bit but there really isnít much there for us to do otherwise. We donít even know where to get a ride back to the highway. We sit on a bench at the zocalo. There are some kids playing on the playground waiting for the bus. As weíre sitting there, a man that was sitting across the street comes over and asks us if everything is ok. We tell him everythingís fine and ask him if he knows where we can catch a collectivo. Heís very nice and explains we can catch a collectivo or a bus right here and they will both take us to the highway. We chat for a few minutes and it turns out he does snorkeling tours during the day and then teaches English in Cancun at night. He asks if we want to go snorkeling? We sadly tell him no, not today but thank you. He was so nice and helpful.
The bus gets there and there was a boy who got on too. I think he was the only boy and all the girls must have been teasing him about something. He gets back off the bus for something, gets back on and just as the bus pulls away he leans out the window and gives all the girls the bird. It was hilarious.
We get to the highway and weíre standing at the side of the road (Russ wearing his Longhorns hat) and an OU fan is going by in a white van and leans out, does the upside down Longhorns sign and yells out, ďItís even funny in Mexico!Ē We laughed and thought, ďand youíre still obnoxious in Mexico too, weird!Ē
I still feel bad to this day about kind of ruining Russí chance to go snorkeling. Iím sorry babe. We took what was more of a bus than a collectivo back to Playa Ė it was really comfortable and nice. I love the collectivos, the ADOís and the buses there. We only took 1 taxi ride the whole time we were there and walked or took one of the modes I mentioned the rest of the time.
We get back to Playa and weíre determined not to make this day a bust. We decide to go to Zenzi. At first we were just sitting towards the back but as soon as we realized you get a free lounger for spending only $100 pesos we were like, ďwhat the hell are we waiting for?!Ē We get a couple of comfy loungers & settle in.
From the back.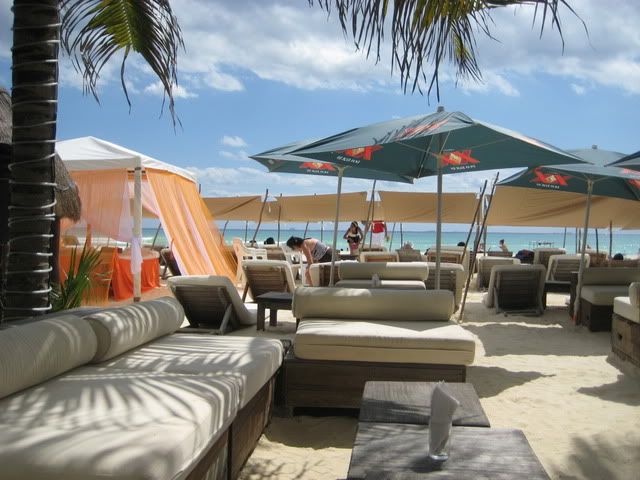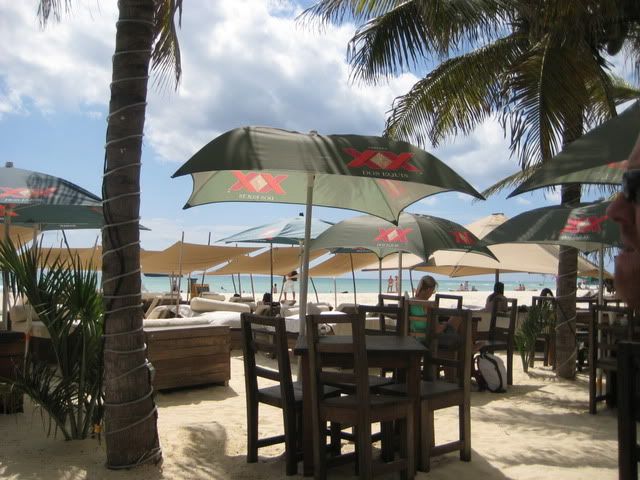 We shared a really good sandwich and drank some beer Ė we had a great time! We like Zenzi, I actually think itís our favorite beach club Ė they have good loungers, good food & service and access to a clean bathroom and even a shower. On my way back to my chair I had the pleasure of running into Snappysammy and his dog Eddie! Itís been 2 years since I met Steve so I certainly didnít expect him to remember me, but I definitely wanted to say hello at least.
The beach was lovely and we just relaxed and enjoyed the nice weather.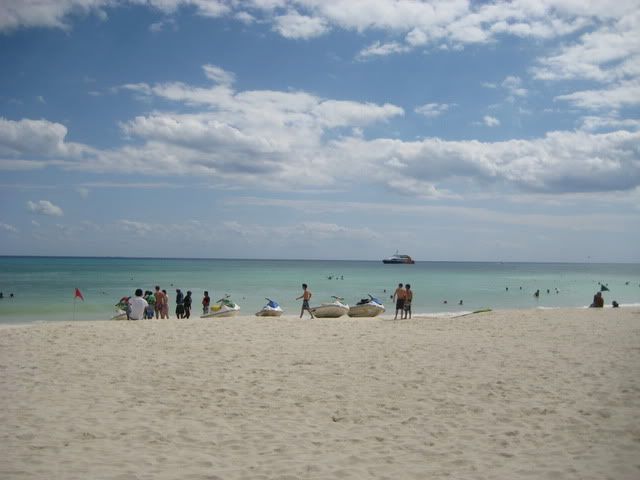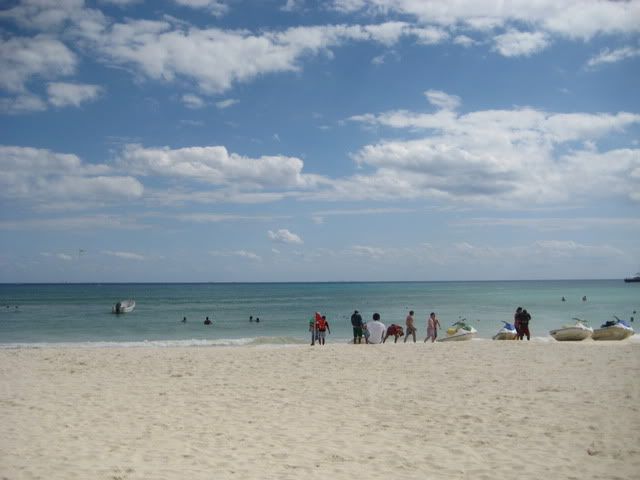 ***Note: All the sudden I just realized I mixed up my days and forgot to put in about our dinner at Yaxche Ė I think I have Wed / Thur. dinners mixed up Ė Wed was rib night so that was Manneís. Thursday was Yaxche. Weíve eaten at Yaxche before and loved it and we definitely werenít disappointed this time either. Everything is delicious and itís different than any other place weíve eaten. The new location is beautiful and we sat upstairs. Great service too.
We canít leave Playa without eating at El Fogon. So tonight was the night. We moseyed on over and of course everything was yummy.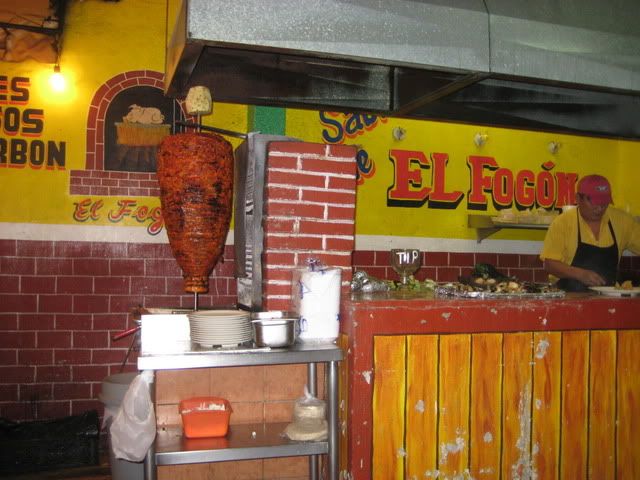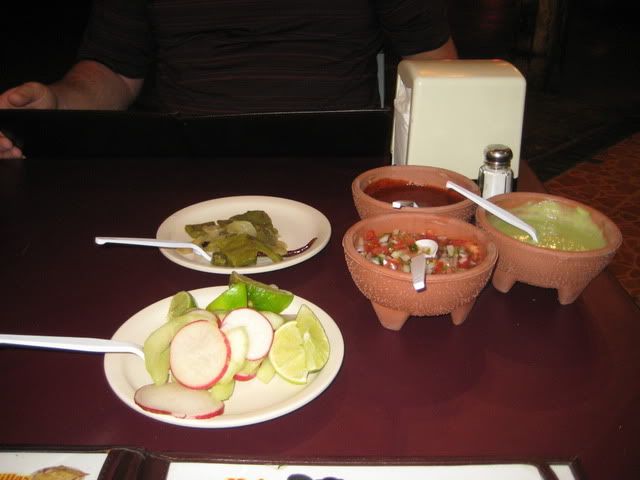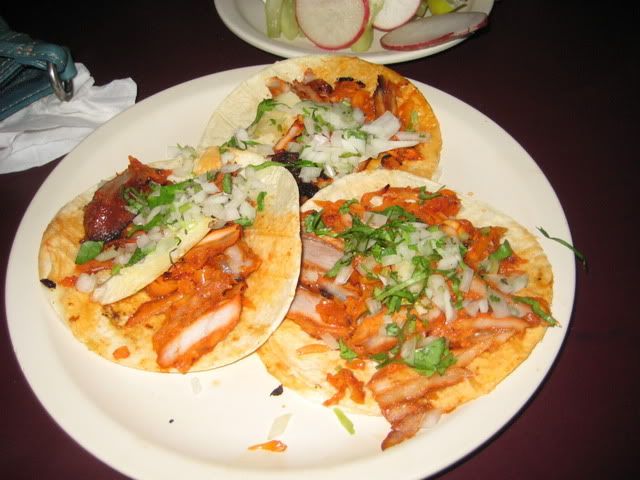 We walk all the way to the zocalo after dinner and decide to buy our ADO tickets to the airport for the next day to make sure we can get seats. After that weíre still pretty full and decide to go ahead and go back to the room. We watch some TV while I carefully wrap and pack all the fragile items I bought. Iím glad I did, it took a while and wouldíve been difficult to do in the morning. I miss my animals and miss my home but of course Iím really sad our trip is over too. We have a little time to at least go eat tomorrow before we leave so one more installment coming up!