Saturday, December 10th
Goodbye, Playa del Carmen…. how hard it was this morning to think that we were leaving Playa, the several friends we had not seen nearly enough, and knowing we had missed others not seen this time around. It only made us realize that we need to find more time to spend here in the future.
But for now… we were excited for what lay ahead.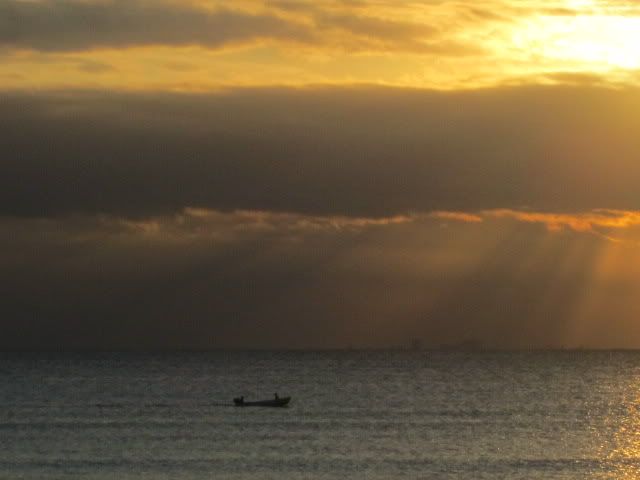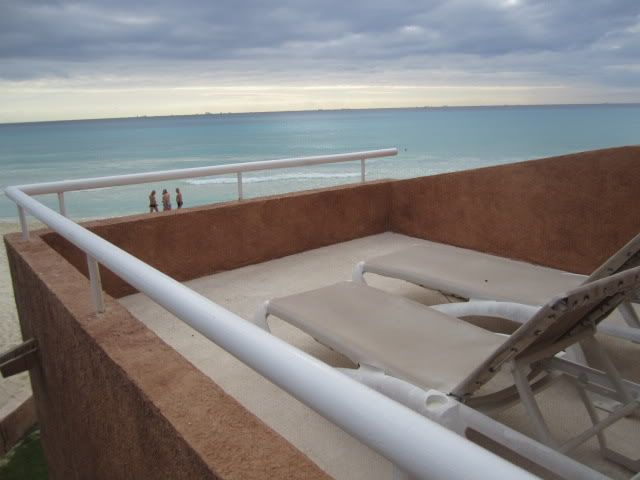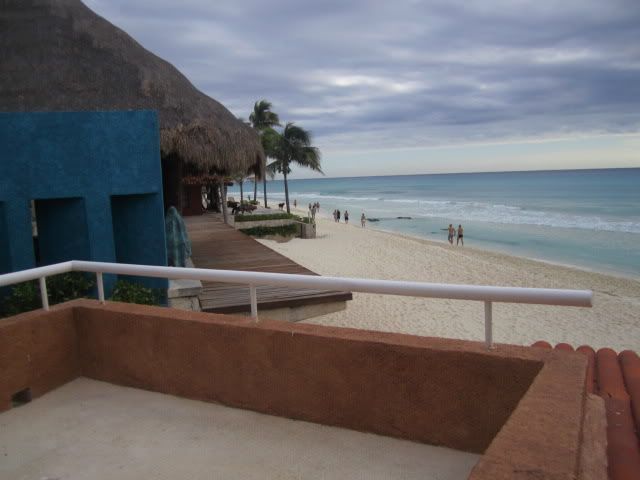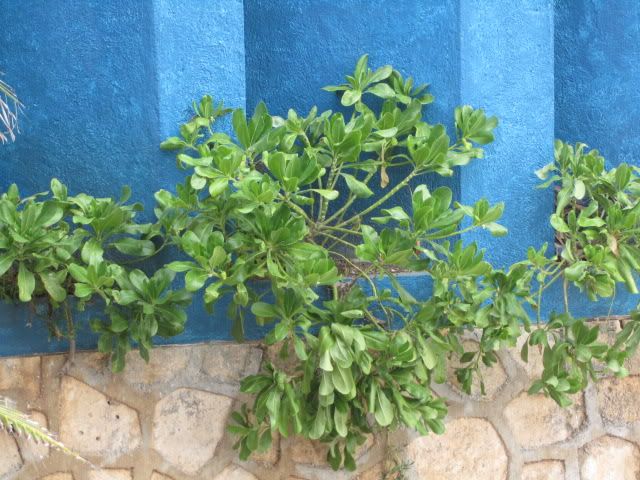 We didn't have to leave Fisherman's until 10 a.m., but Harris had told us last night that they needed to leave Plantation House at 9 due to some shifts in others' rentals. So we told her that we'd get over there as soon as possible and to just have everything packed and waiting downstairs to load the car, so we could hit the road.
Ummm.… that didn't happen exactly as planned. We packed and left Fisherman's at 9, stopped at the bank and drove over to Plantation House…. Harris was boiling leftover eggs and cleaning out the fridge and throwing things into bags… we ended up helping cart lots of loose stuff down to the curb and stuffed it all into the car haphazardly until it looked like this when we drove off at 10:00 or so.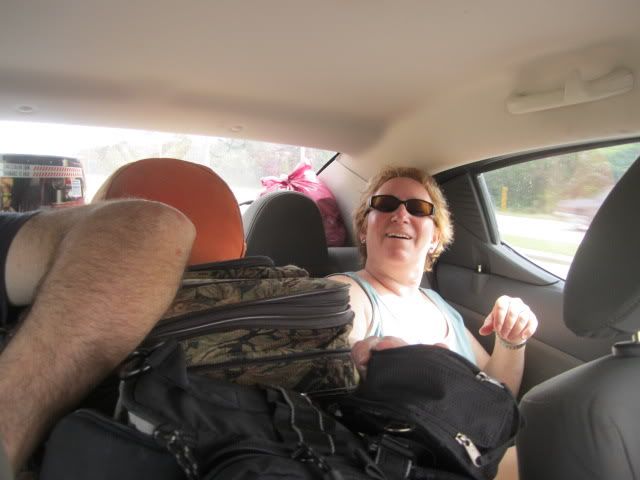 There were many pilgrims running and driving along the highway this day, in both directions, striving to arrive at various towns and cities' churches along the way in advance of the Virgin of Guadeloupe's feast day on the 12th.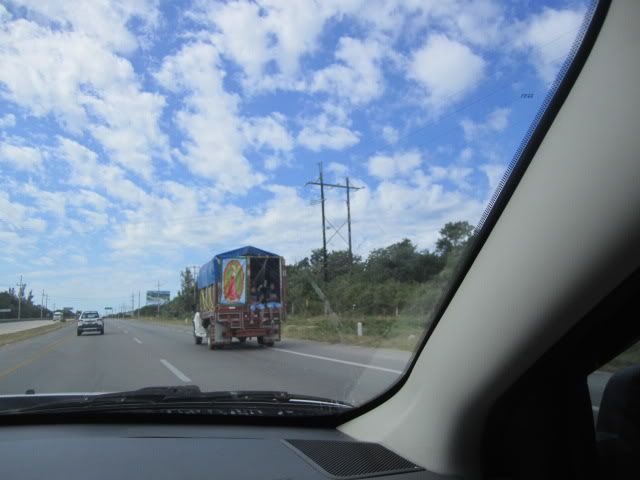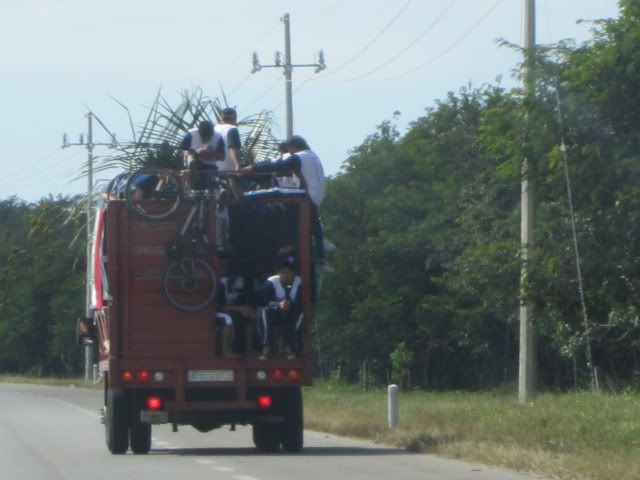 We stopped in Tulum for a Pemex stop and for Paul to find a wide brimmed hat. We ended up at La Nave for a late breakfast before the long ride- we still had about 2 ½ hours to drive to Mahahual. It was nice, and the food was good. Brian had squid, shrimp and fish bruschetta which was interesting….
and we were finally on the road again at the crack of noon.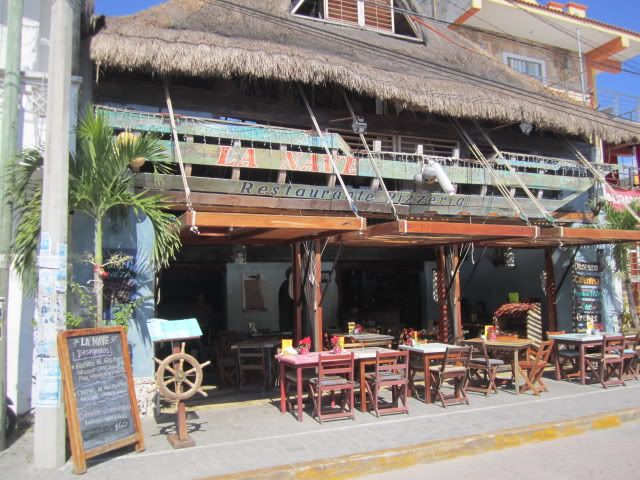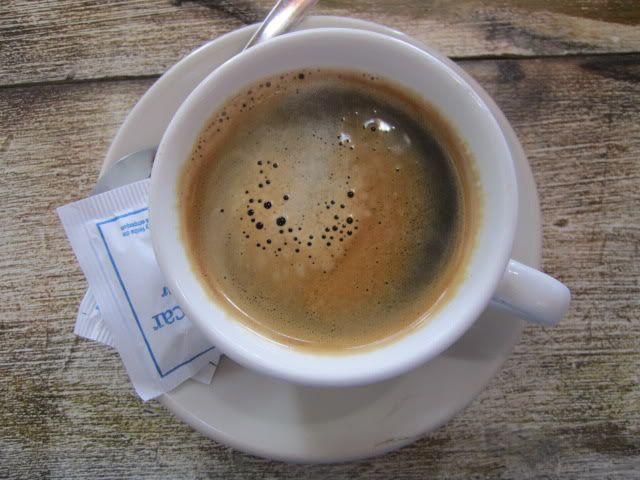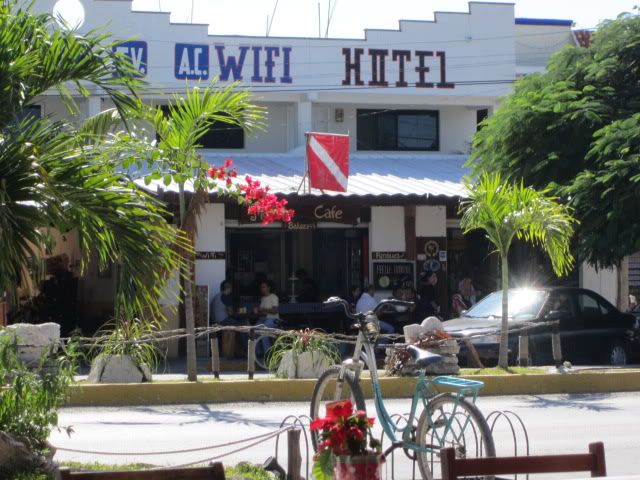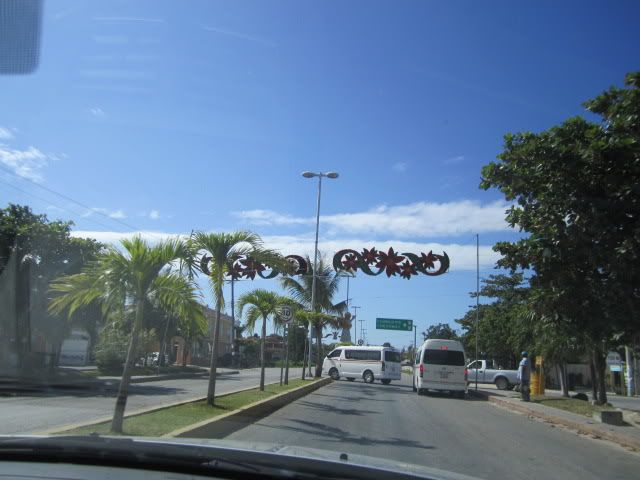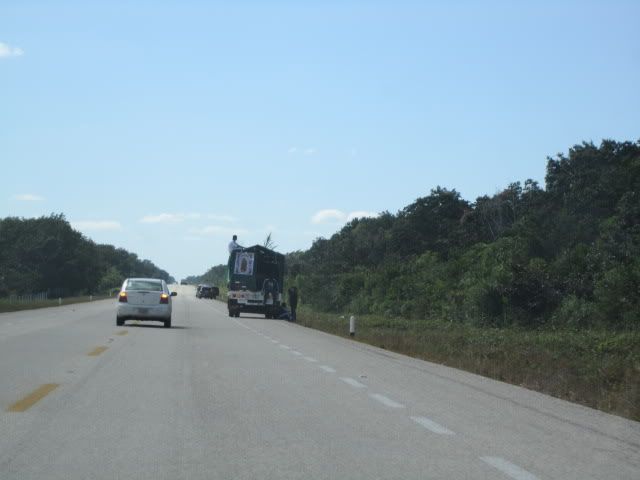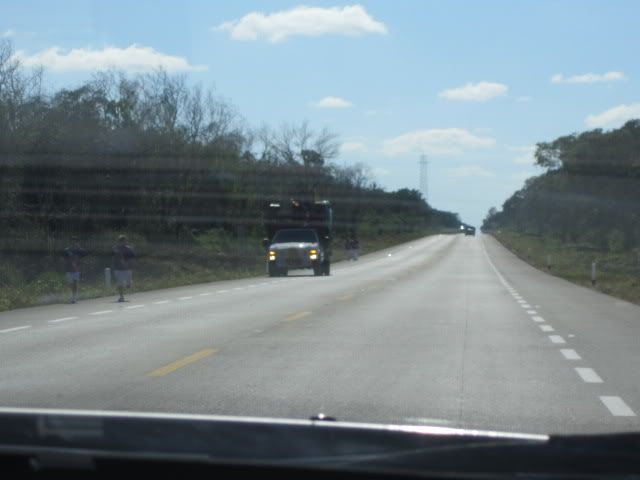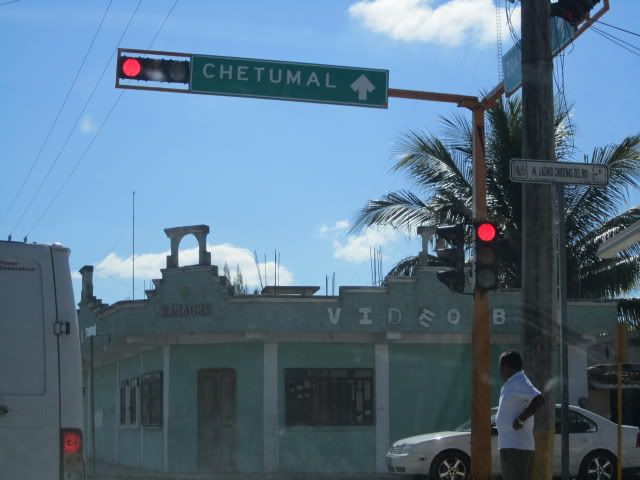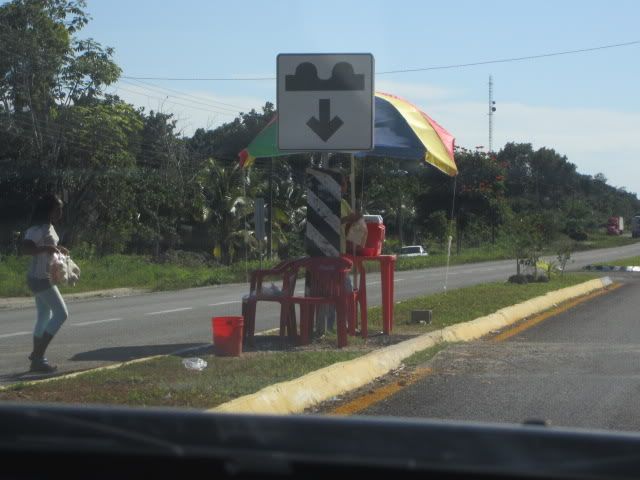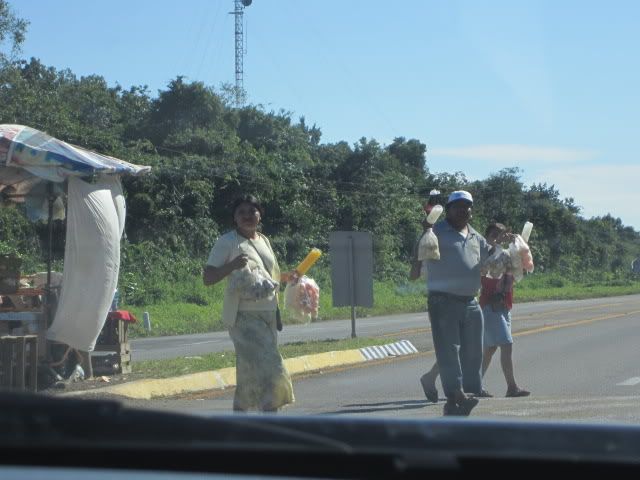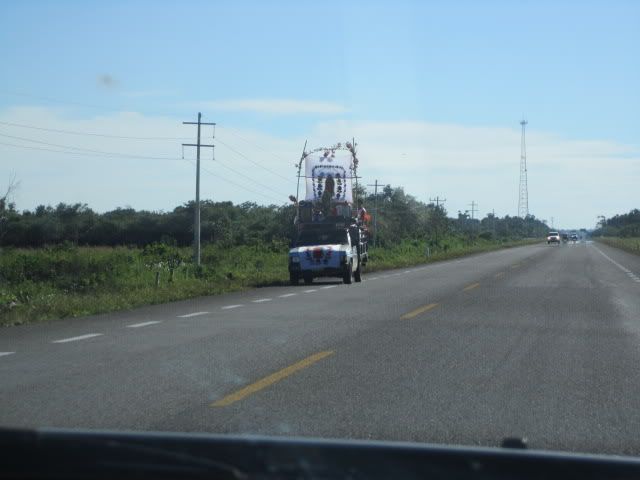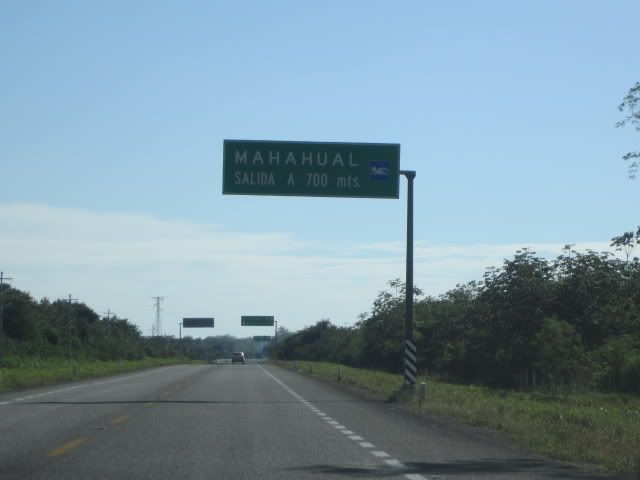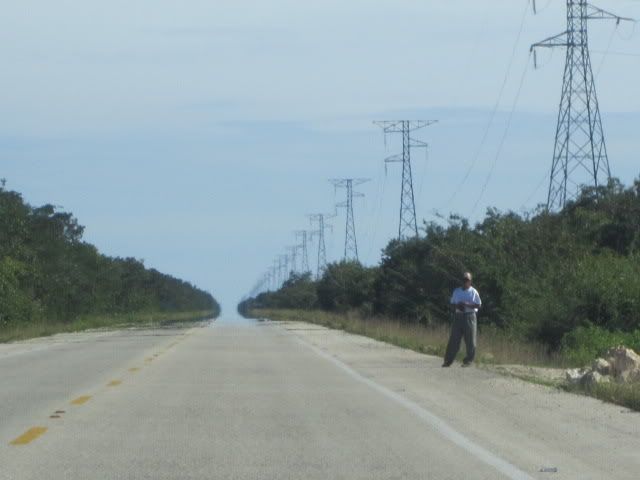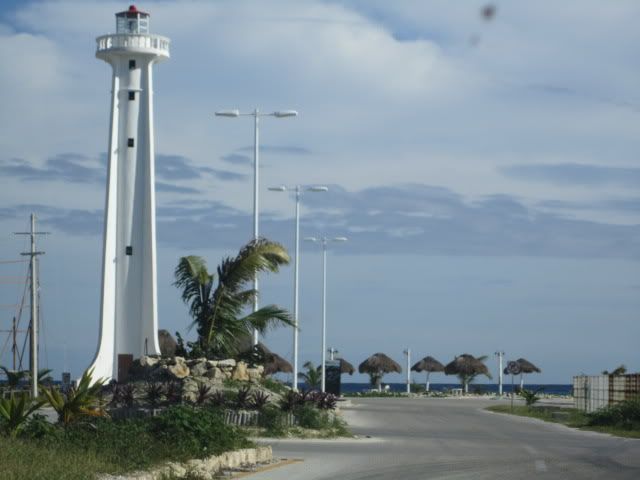 At 2:35 we pulled up to the lighthouse north of town. Last year it had seemed an oasis at the end of the coast road from Limones, and we loved the transplanted couple from Mexico City who had been cooking up the catch of the day and engaged us in conversation as we instantly fell in love with this little town. This time the setting was still perfectly incredible… but it appeared abandoned.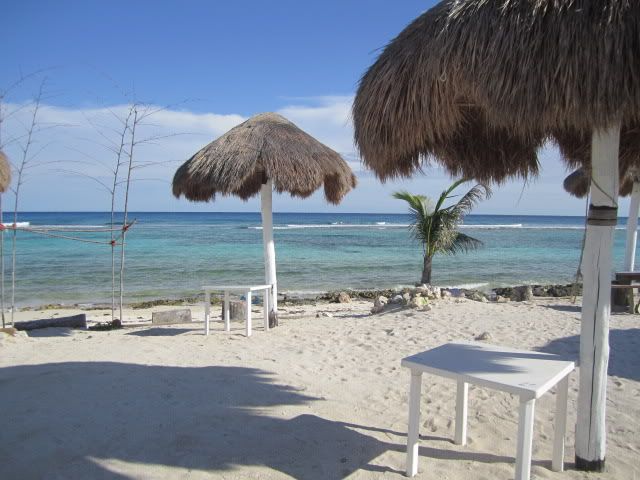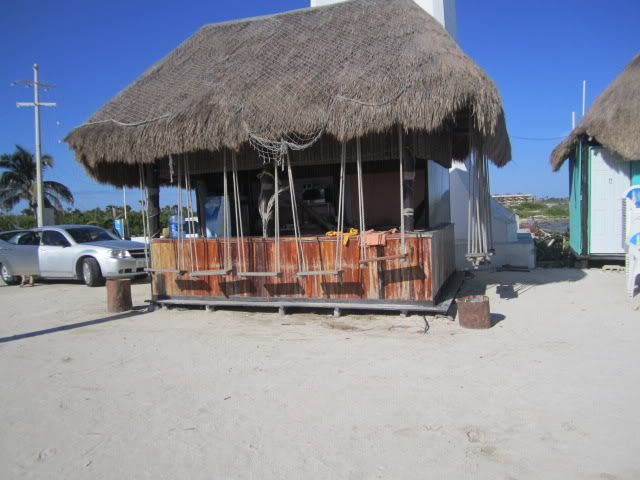 We walked around and stretched, and then hello…… someone in the hammock inside the little bar finally stirred, and the new proprietor, "El Nino", yawned and slowly stood up to greet us and serve us some not-so-cold but still welcomed beers in the swings.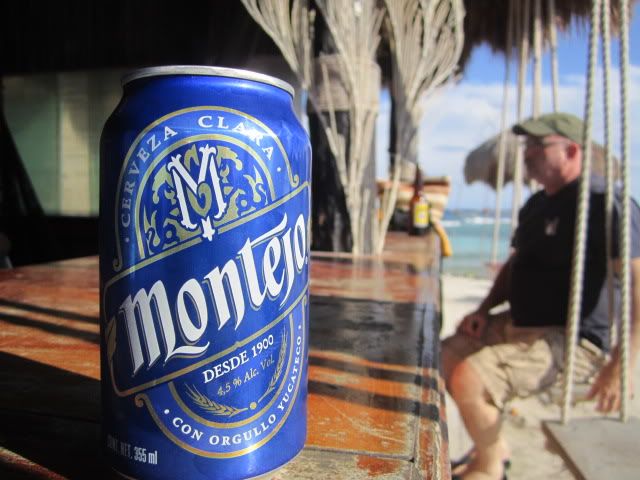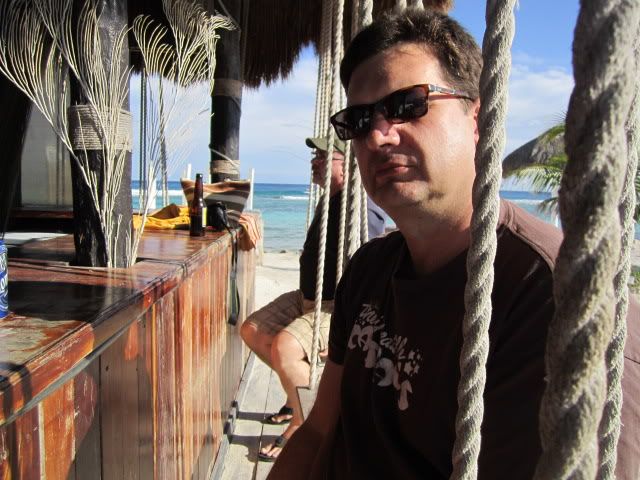 We told El Nino we may be back- after all, Jez had told us last year that this was a good snorkeling spot- but right now we were ready to check into our hotels and relax a little there.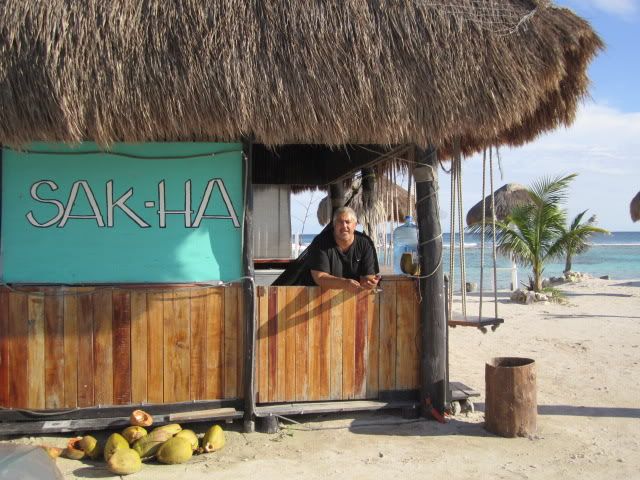 We drove down the road into town and realized that the main road was under construction. We were able to let Harris and Paul off near the Nacional Beach Club then drove a short ways down to Posada de los 40 Canones, where we'd also stayed last year.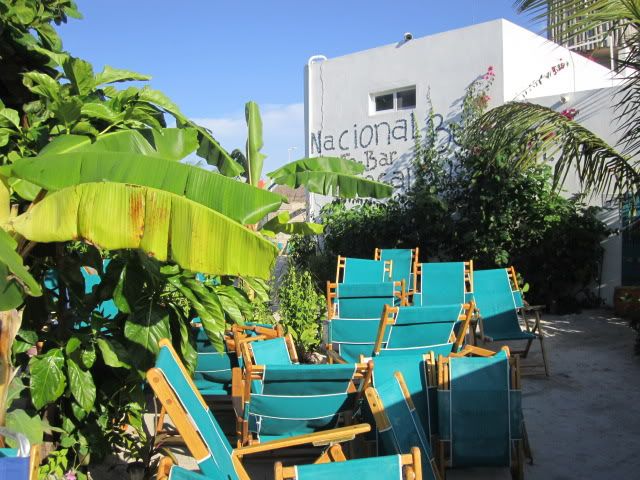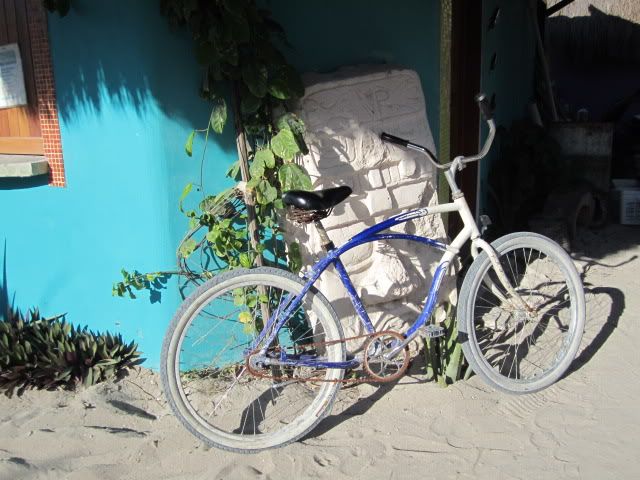 I think that Harris and Paul were taken by this sleepy little town the way we were last year. We were all instantly in veg mode, taking everything in stride, completely and utterly relaxed.
We had the same room as last year, and felt so glad to finally be back here- we have really been dreaming of this little town since the moment we left last year. And now we were armed with realtor suggestions, just in case, for future reference (thanks, Heather). The difference was that 40 Canones was expanding. No longer did we have a private balcony outside our door- it connected with a whole new wing, just being completed! We absolutely love this hotel, but we would come to love the Nacional Beach Club equally. I actually think we'd love being anywhere, as long as it was in Mahahual.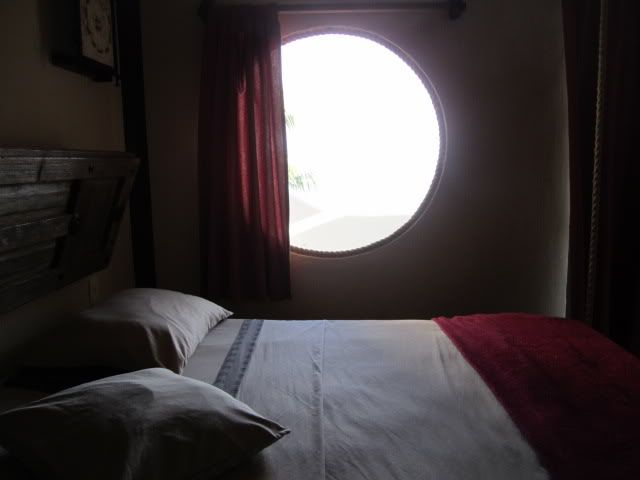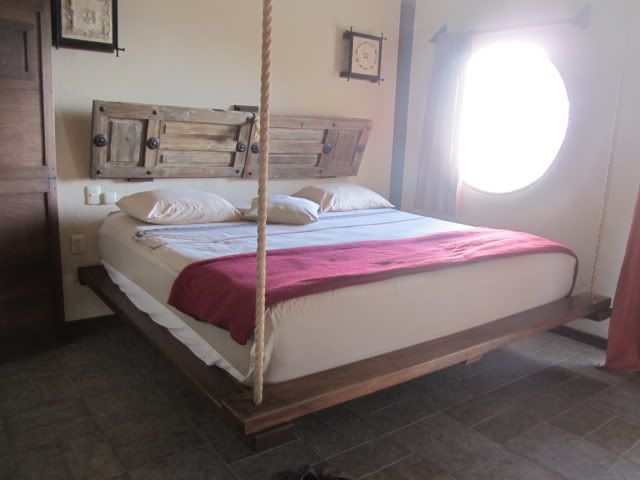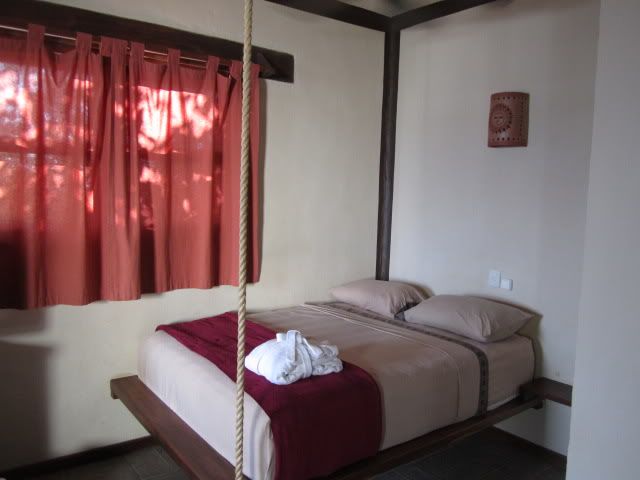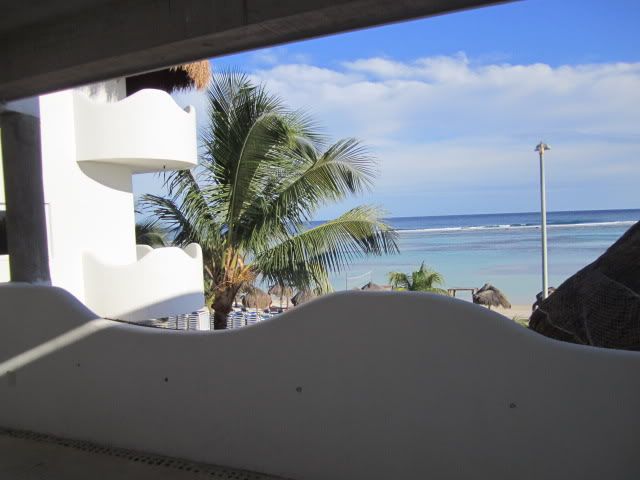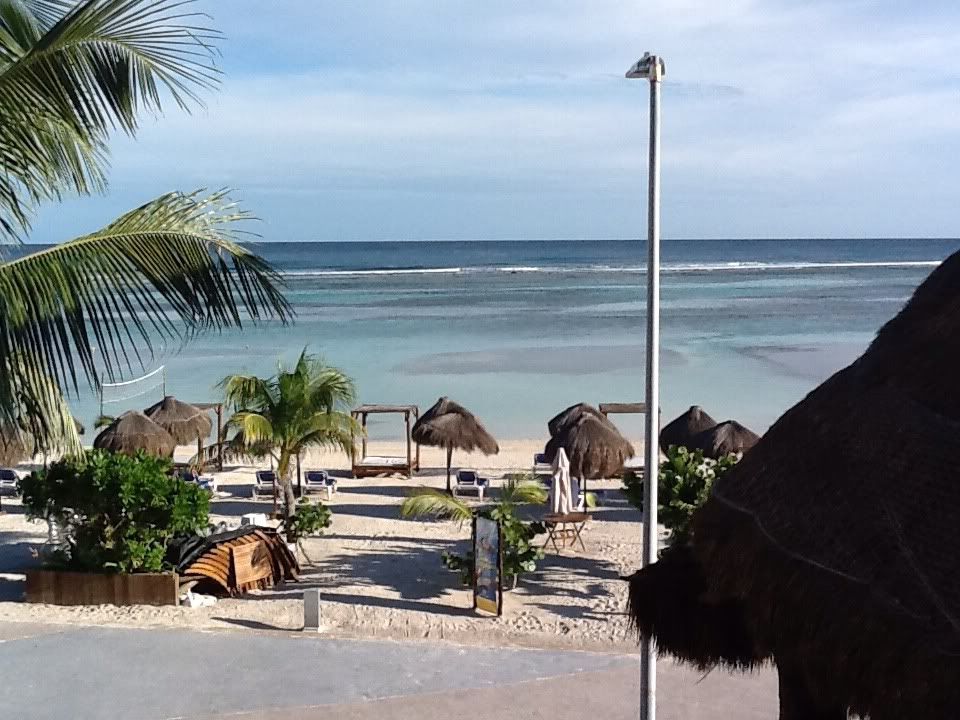 We wanted to go straight away to Jaime's place, Nohoch Kay, for tacos, but could not quite make it past the swings at the beachside bar.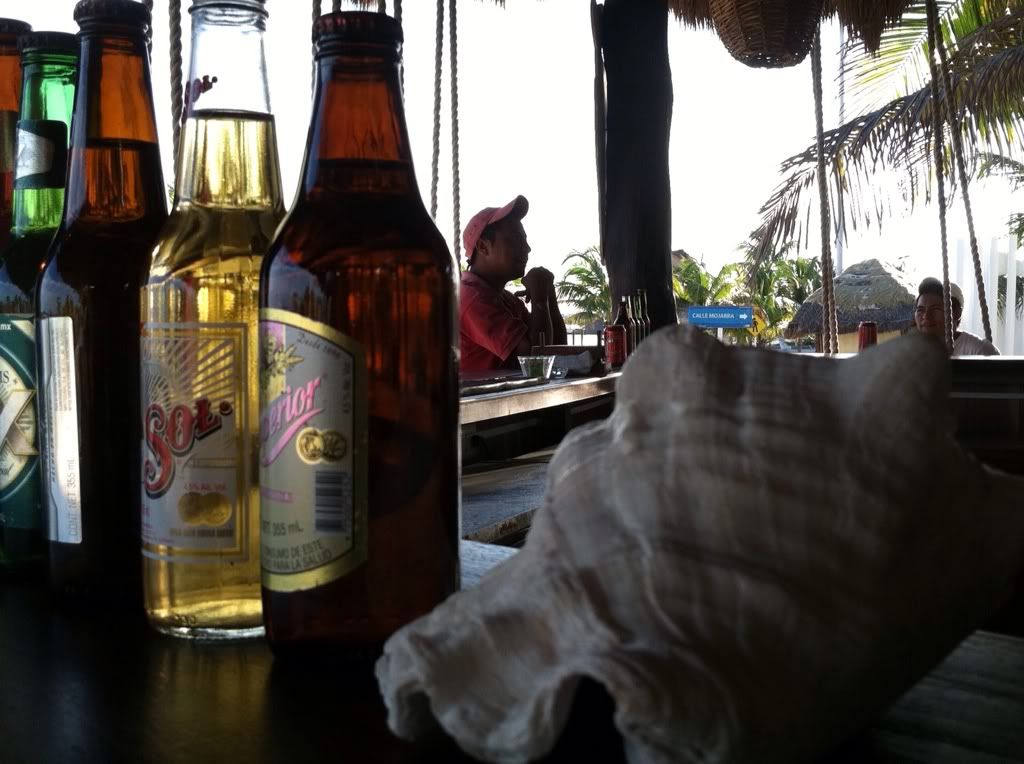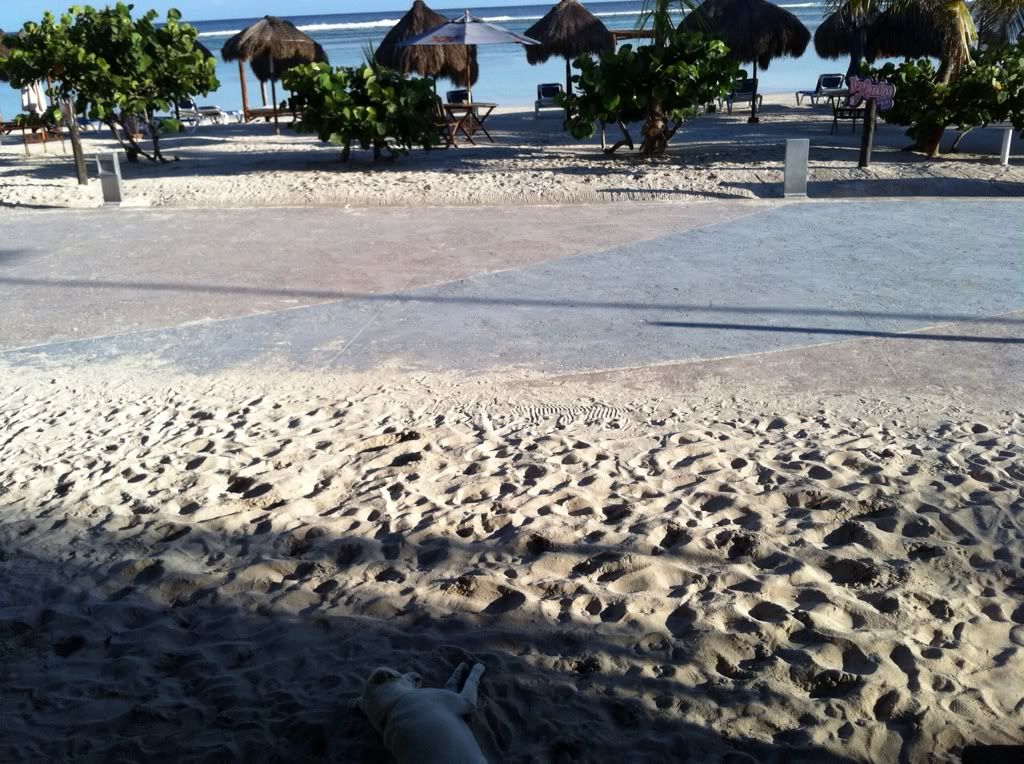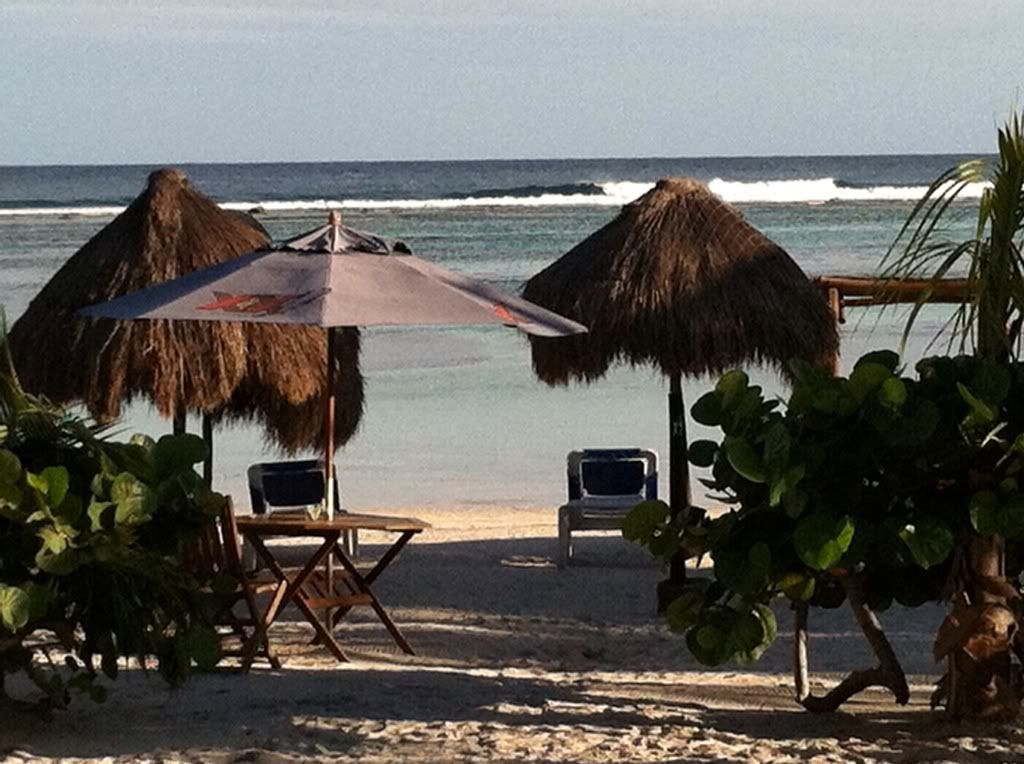 We took a second margarita para llevar and strolled up to the Nacional Beach Club to get Harris and Paul, but they were just settling in on the beach with a couple of drinks themselves, and introduced us to their host, Evan.
(Paul) "You've got to stop bringing us to these cool places!"
Ummm. No.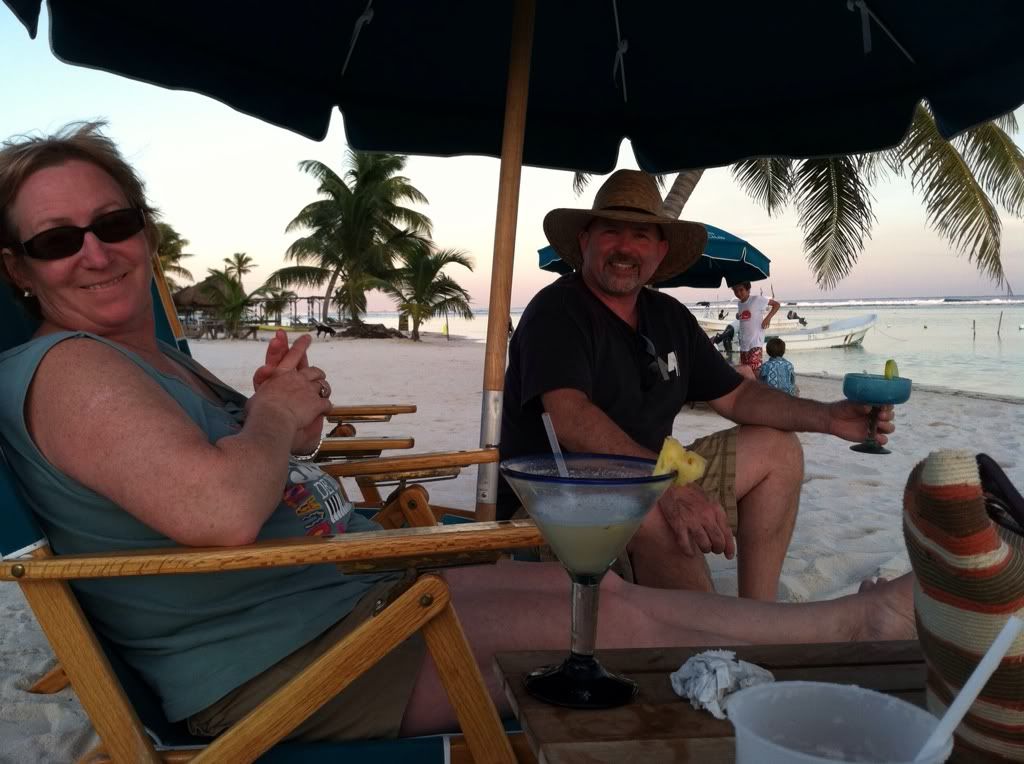 So we settled there for a bit, sipping our cocktails, watching birds, while the sky turned to multiple shades of pink.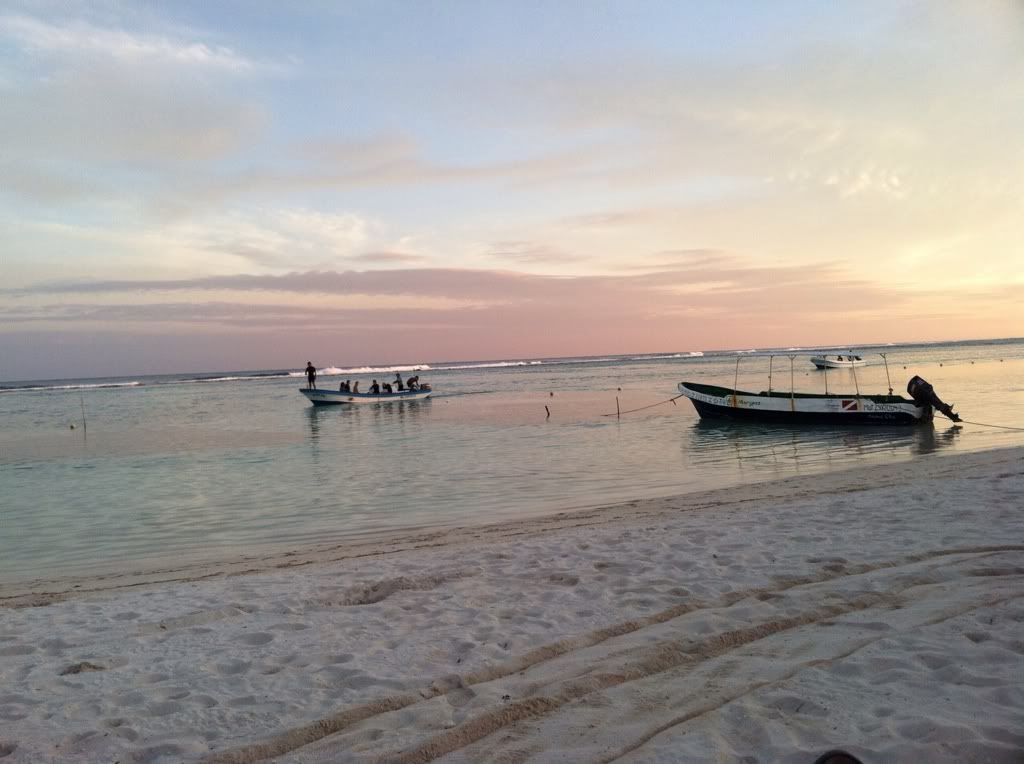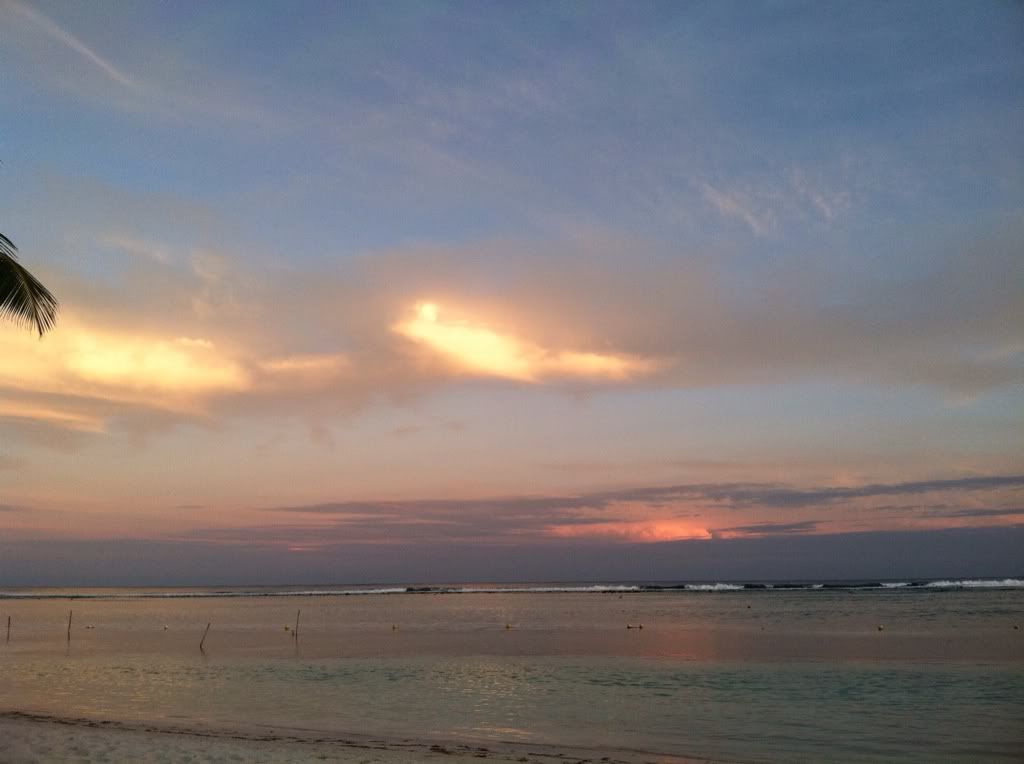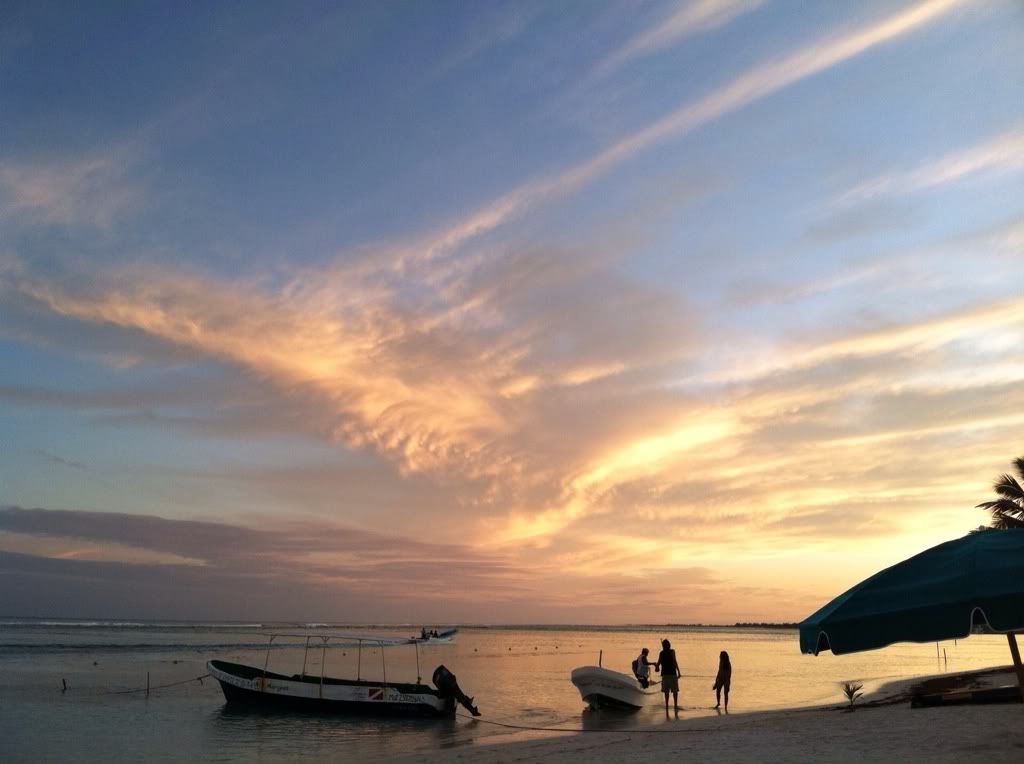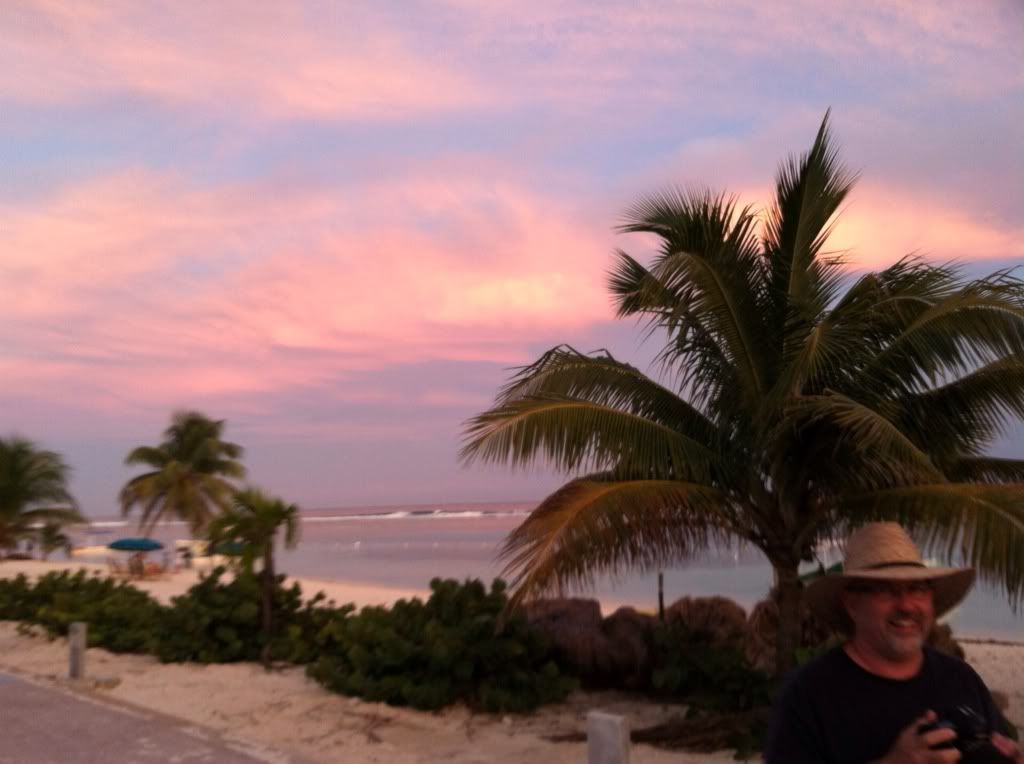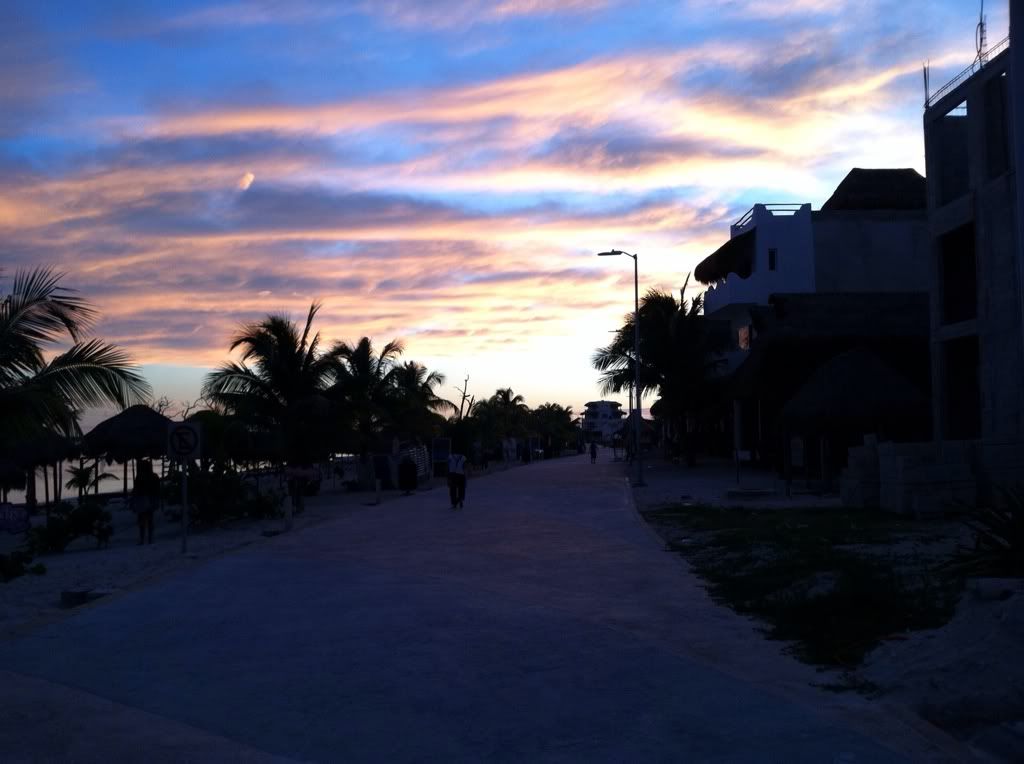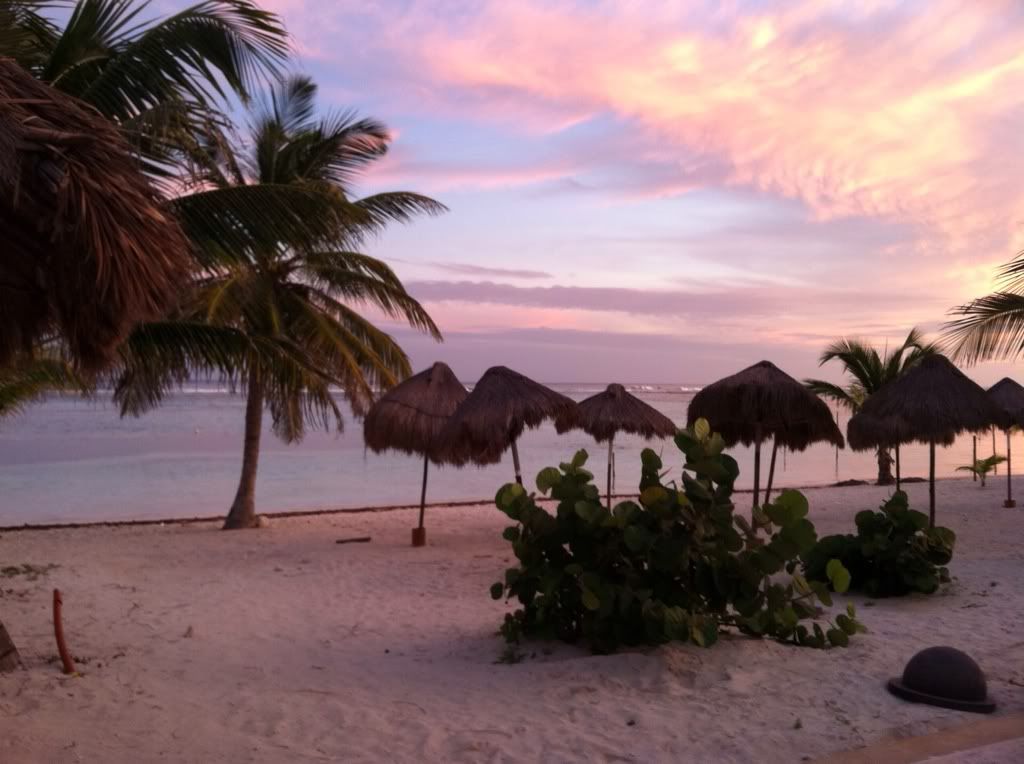 40 Canones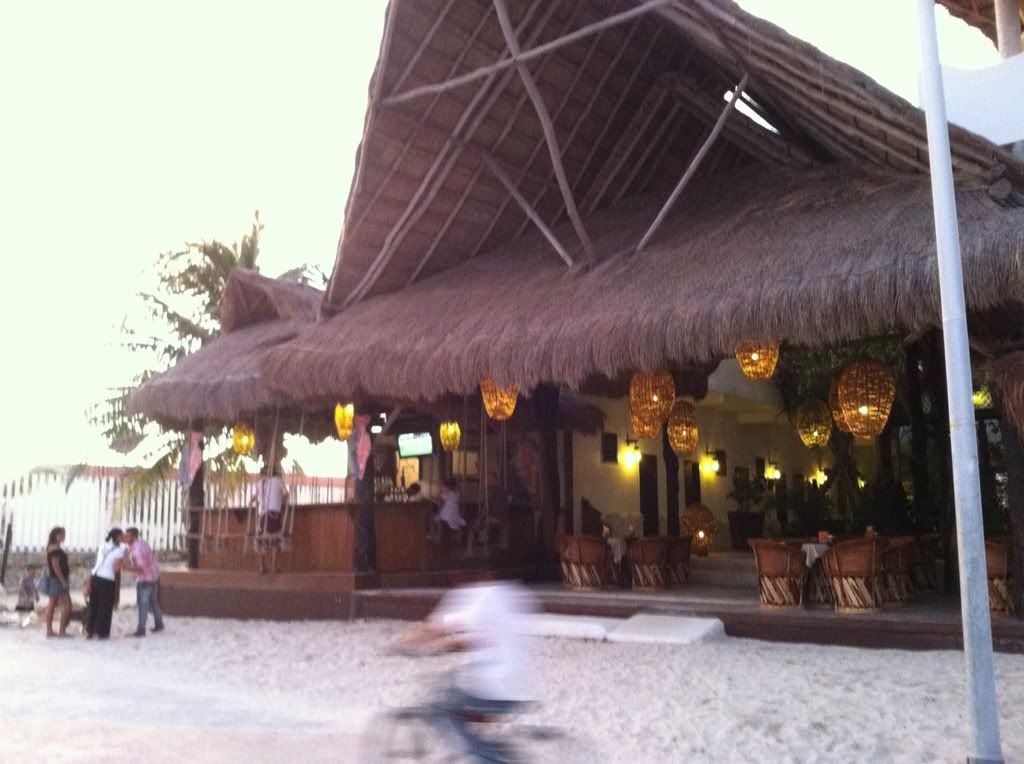 New construction to the right of our room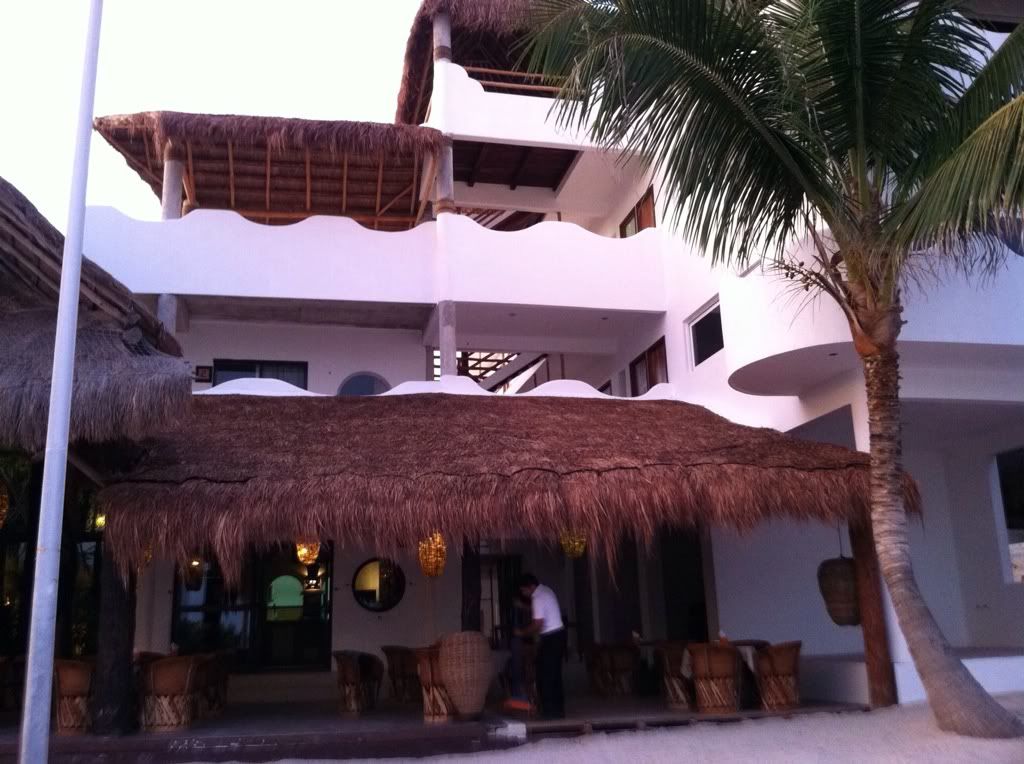 beachside banos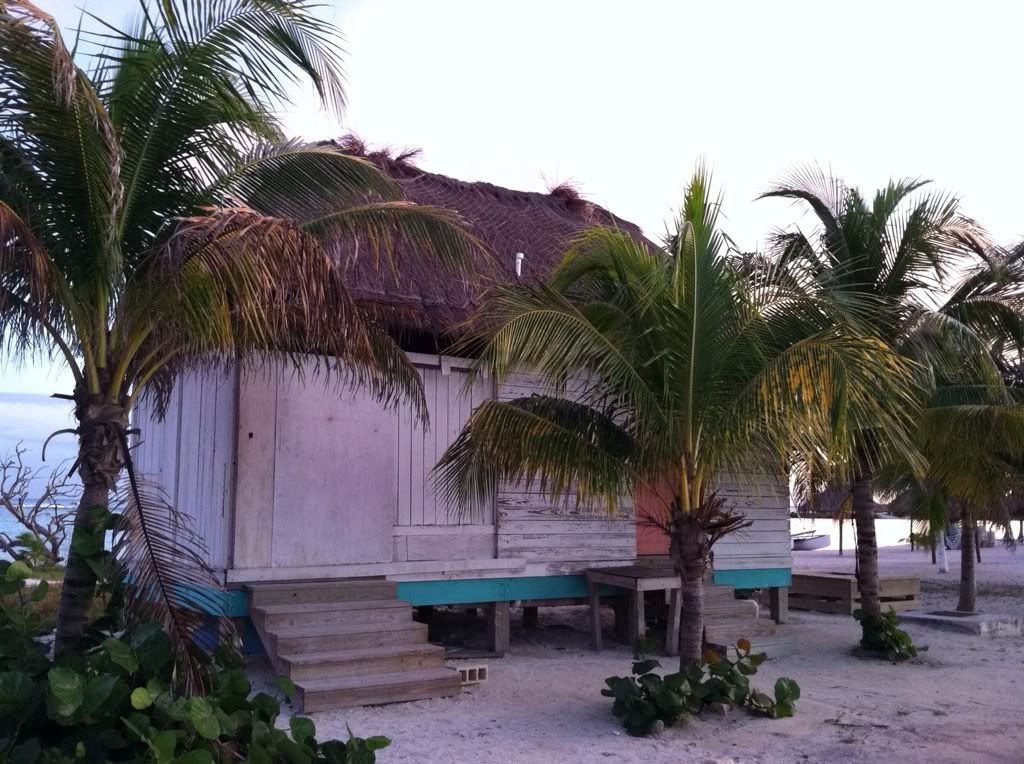 We tore ourselves away for a very late "lunch" at Nohoch Kay and were lucky enough to find Jaime there and chat about our mutual friends in Playa (Steve wanted me to give Jaime a big hug but I was shy… yet we did trade some stories!)….
I think we might have had some ceviche and perhaps a couple of Jaime's famous shrimp and fish tacos, but more memorable were his nieces, who were serving us- the "3 B's"- Bebe, Brenda and Betty ("Boop"). Such nice, pretty, engaging girls- we had a wonderful time with them.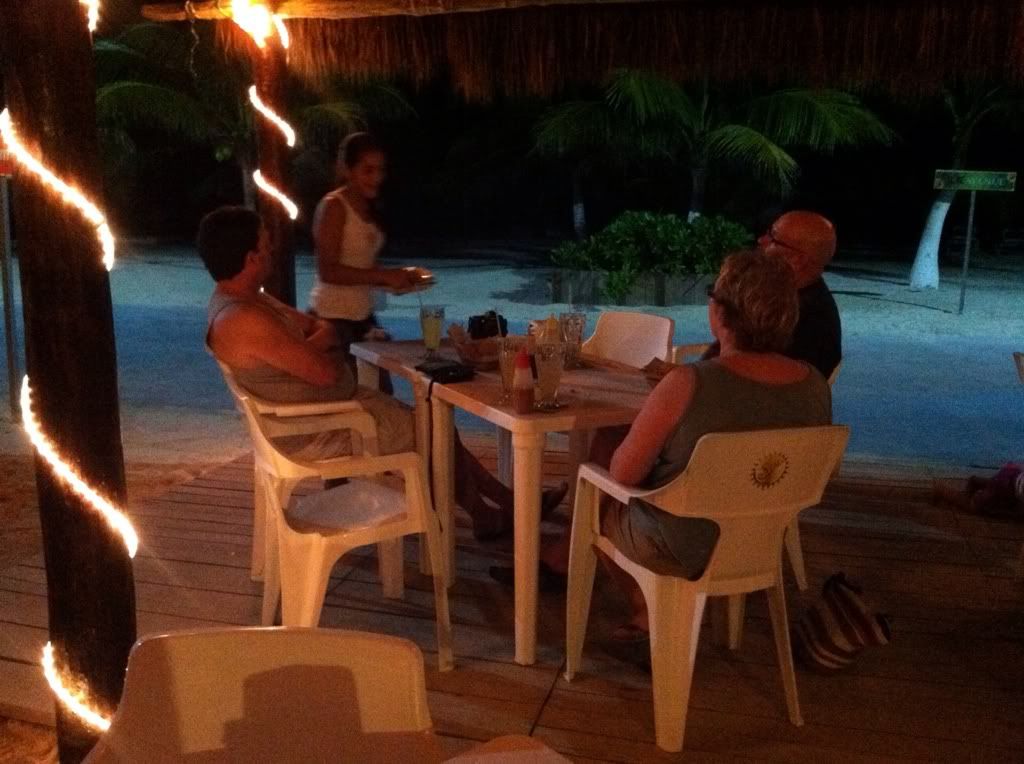 From there we went up on the new upper deck at 40 Canones with a spectacular view of the town and the sea, and then we went over to find Harris and Paul at their place. We went into the hotel's little bar/restaurant and started in on Cuba Libres and some great conversation with Evan. It was clear that Evan and his fianceé loved Ron (roni) and Kathy, who had been there just a few short weeks beforehand. (They had also recommended their particular room to Harris and Paul, who loved it equally, as far as I could gather). And what's not to love? I thought the ceiling was wayyyyy cool.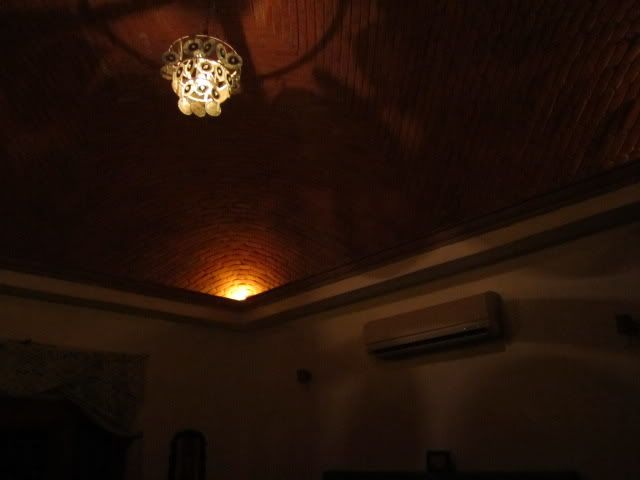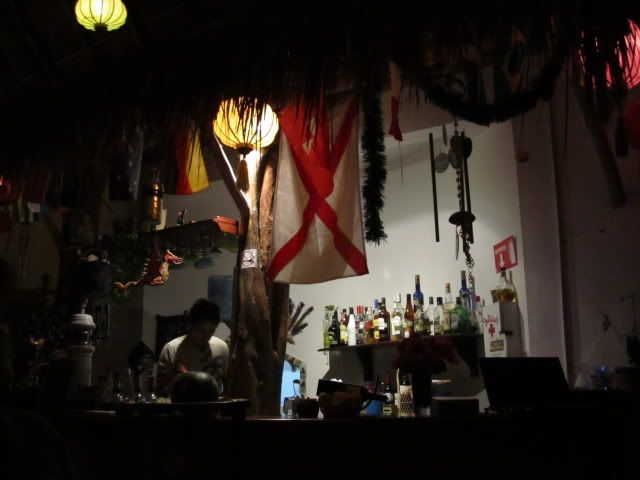 Eventually we left to go to dinner at 100% Agave, a restaurant we'd been to last year at Jez' suggestion, and again we were not disappointed- although at this point we were not too fussy, and a little buzzed. Fernando was a great host. Harris got a kick at the door being locked behind us after we sat down (it was late).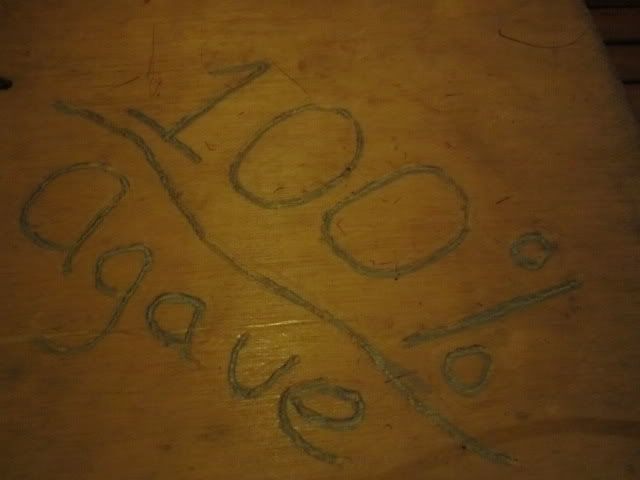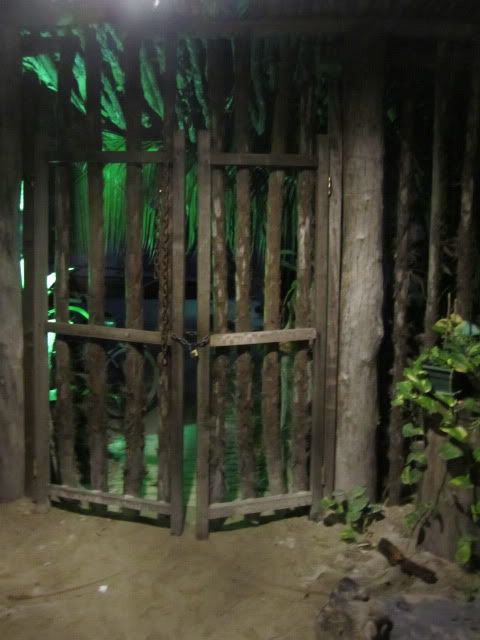 Oh my, who did this remind us of?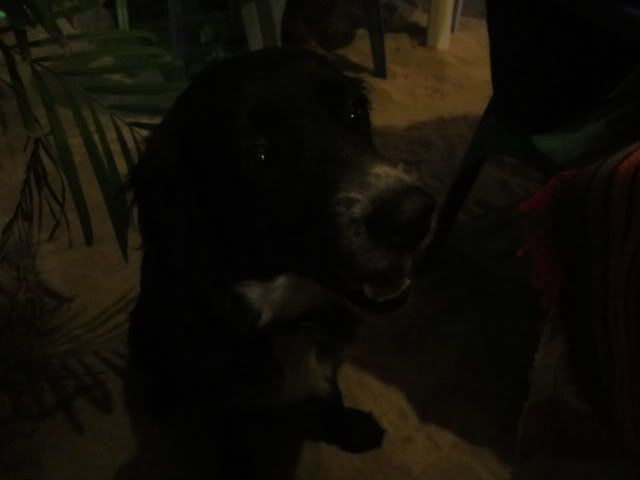 The waitress brought us complimentary glasses of fresh squeezed pink grapefruit juice with vodka, and the Brian ordered a chelada, Paul a Montejo, and Harris and I had more grapefruit/vodka drinks. I wasn't so hungry before, but now I craved fish. I ordered mero filet cooked in tin foil with peppers and onions and cheese that was soooo tender and tasty (and only 75 pesos), and Brian had a pork torta for just 35 pesos. Harris and Paul were satisfied with their drinks and the muy caliente salsas that were served, but I think they had filled up at Jaime's earlier. Beers were just 15 pesos, mixed drinks 40. After dinner we were served tequila and coffee drinks, gratis. We didn't see the barrel of house tequila from last year, but everything was just great, and Fernando was a gracious host.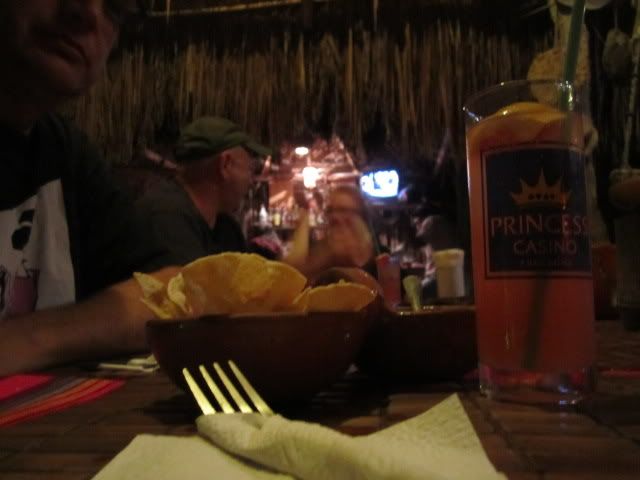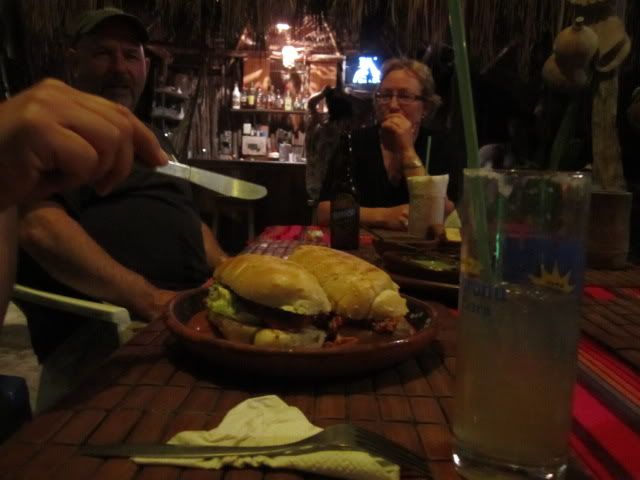 Afterward, we walked home accompanied by a couple of friendly local dogs, under a perfectly full moon.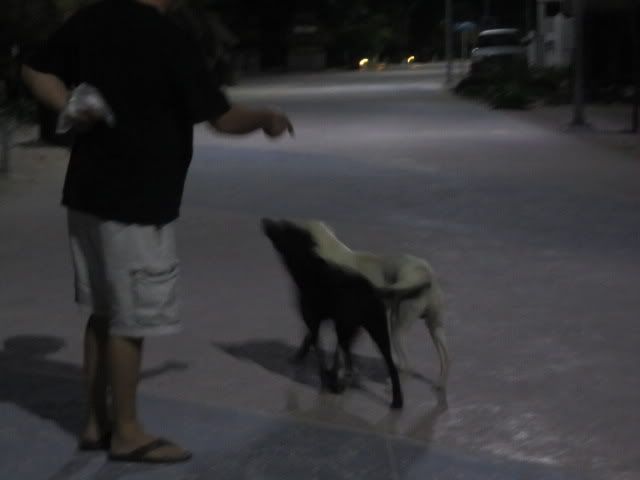 sleepy local