Friday, December 9th
Sheesh, I couldn't even sleep in with a hangover, with a sunrise this beautiful…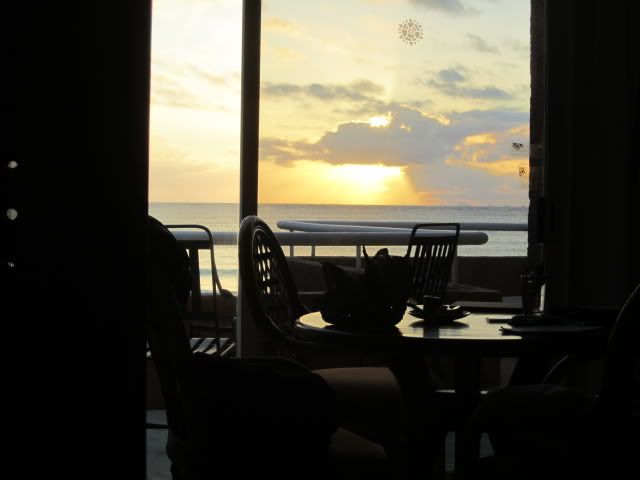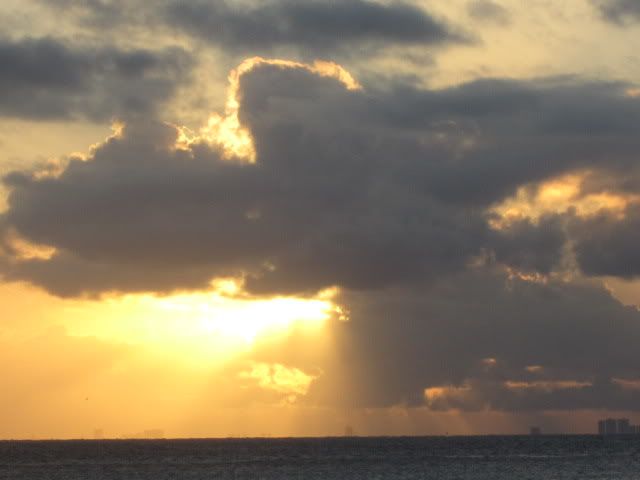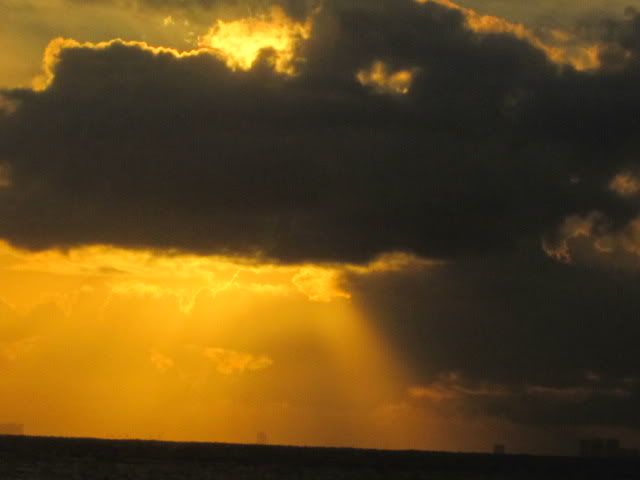 It was still very cool this morning. I made coffee and had a little mango yoghurt, trying to erase the fog in my brain. We sat by the pool and checked the internet for a little while and thought we might actually hang out here later on (we really never do).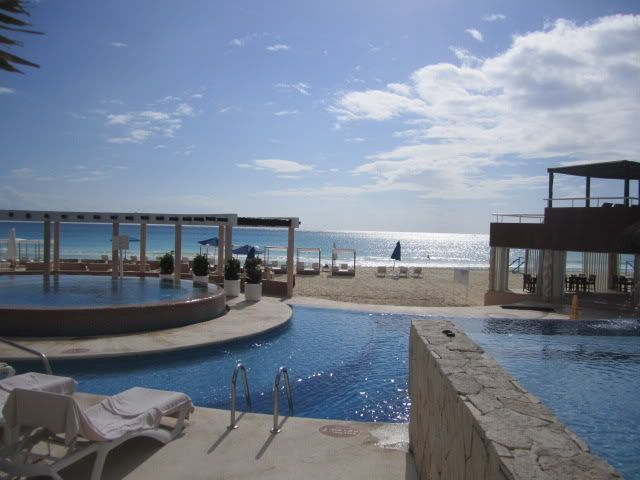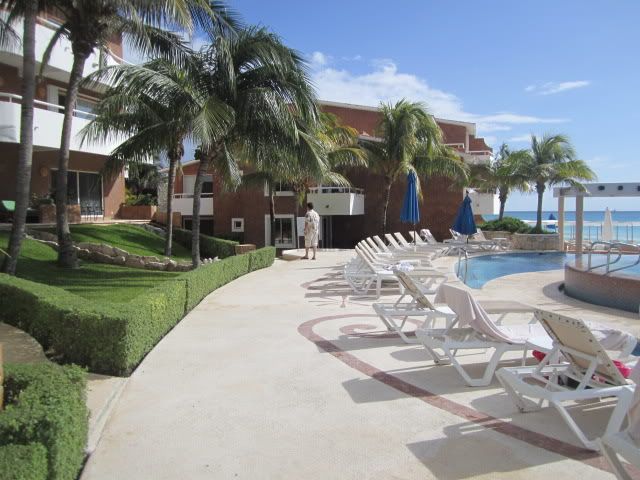 Harris called about 9:30 and suggested we meet at La Vagabunda for breakfast in a half hour.
We drove up and parked on 26th and grabbed a table and ordered coffee. And patiently waited…. and patiently waited some more, with a hole burning in my stomach.
I couldn't believe this was our last day in town. We'd have to find Bettyann and Dan later on and have lunch. Things were made easier when they strolled up with Harris and Paul at,
ahem
, 11:00. We'd finally ordered and had just been served our chilaquiles (me) and chicken enchiladas (Brian). Bettyann and Dan had eaten at La Tortuga but Paul followed Brian's lead on the enchiladas and Harris ordered Salmon Benedict. Breakfast here was as good as usual. Then, the girls decided to drive over to Vidrio Soplado, stopping to pick up Mary along the way. We'd meet up with the guys at Plantation House later.
I always say that I have quite enough Mexican glassware in my house, but then I always find a few pieces that I can't live without. Plus, wine and margarita glasses, well, break…. (at least ours do sometimes)...
After our little shopping spree (and another stop at La Davina for Havana Club) we met the guys up on Harris and Paul's upper deck and hung around for a little while. Eventually it started spitting a little rain and we decided it was lunch time. Someone suggested ceviche. And, where else to go but La Sirena Cevicheria? Well, okay… it was right around the corner and looked inviting.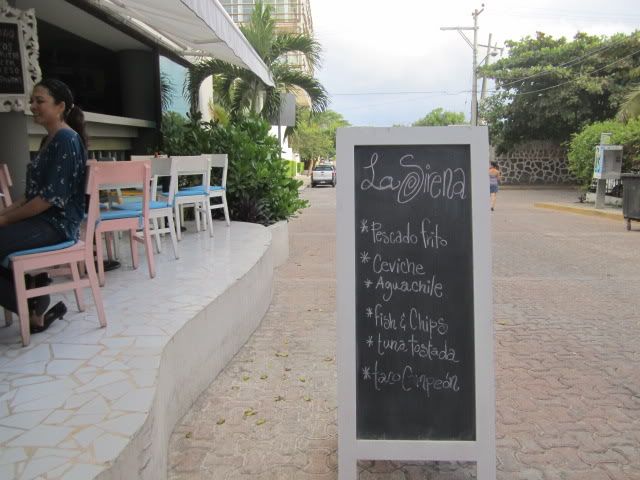 What a great find. First we were served a platter of fish ceviche and tall shots of shrimp broth, gratis. The shrimp broth was my savior. Our server joked that it was a hangover cure, and he wasn't kidding. I felt like a new person after drinking in that briny goodness. Bettyann liked it so much she ordered a bowl of seafood soup (the shrimp broth is its base).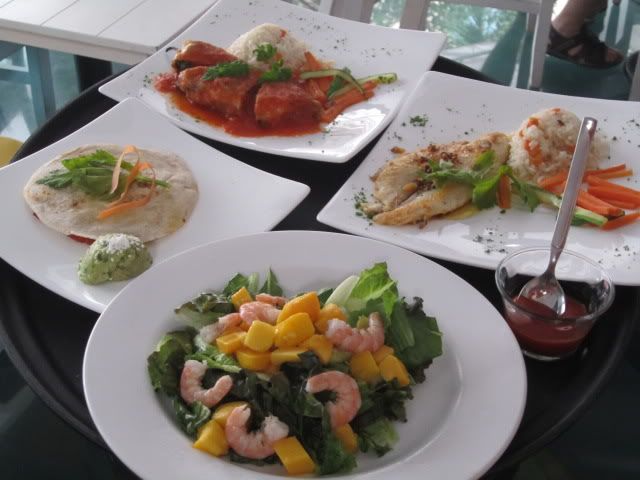 I had an ajo fish filet which was excellent, but Brian's grilled tuna steak was even better. I'd highly recommend this restaurant for its wonderful food and great service.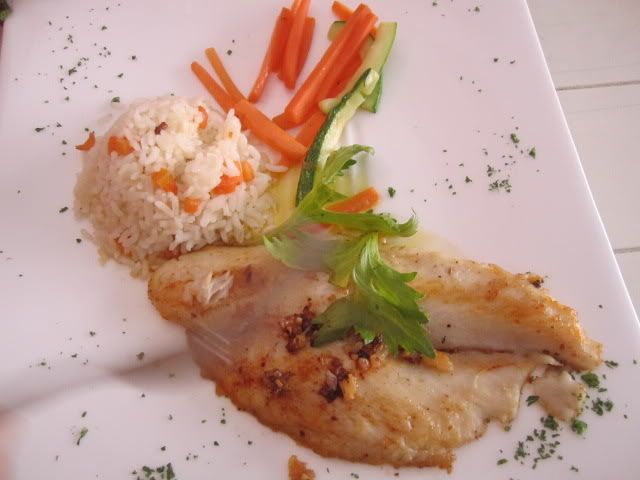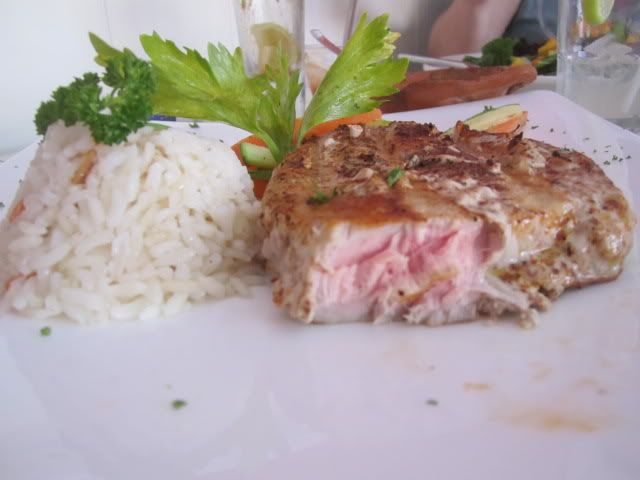 We walked around a little after lunch and I picked up a few more things for Christmas (vanilla, tequila cream and the like) as I wasn't sure we'd have such an opportunity down south.
1st Ave.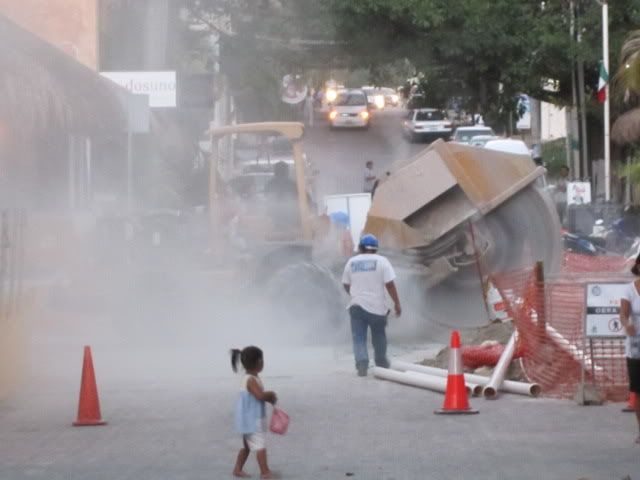 I was drawn into Yulanga, Veronica's shop on 14th. I found a beautiful, impossibly soft goat leather bracelet that featured Mexican turquoise and ambar cabochons set in substantial silver bezels, the teardrop-shaped turquoise acting as a 'button' and the ambar as a slide to secure the braided leather around one's wrist.
Brian agreed that it would make a nice anniversary present and so off we went with the bracelet (and some copal incense), back to Fisherman's to hang out and regroup…. It was ham hock night at Manne's and we'd planned to have dinner there later with a few other peeps.
That evening we met up with Mary, Paul, John, Cheryl, Harris, Paul, Steve and Mike. I couldn't believe I was back at the scene of last night's revelry, but it was fun to recap the events of the day before, and when the platter of ham hocks appeared with all the fixings it was clear that this had been a great plan (we'd had to special order the ham hocks days before).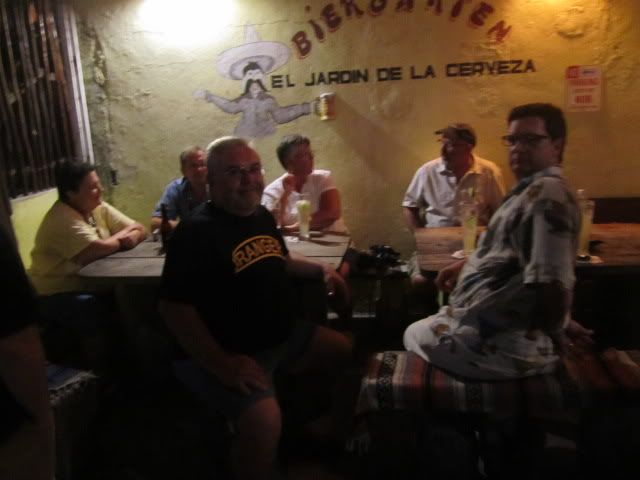 Great shirt!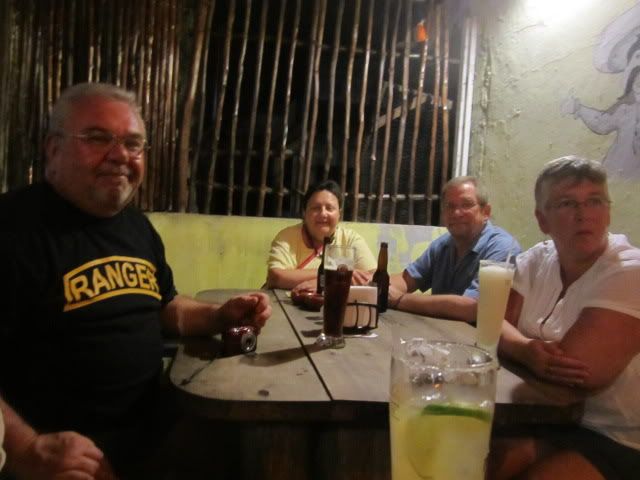 Overheard at table: (John) "I'm practically a vegetarian at home!" (Cheryl) "Yeah, right".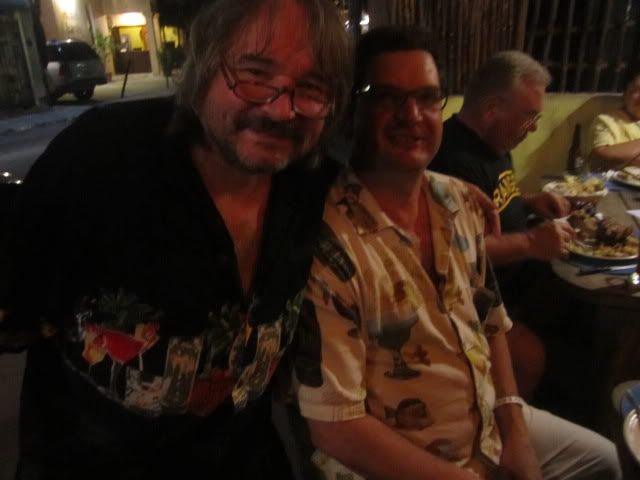 The food, margaritas and company were excellent, and Manne was a great host. And then the infamous hausfusel gas pump appeared. And then another. Uh oh.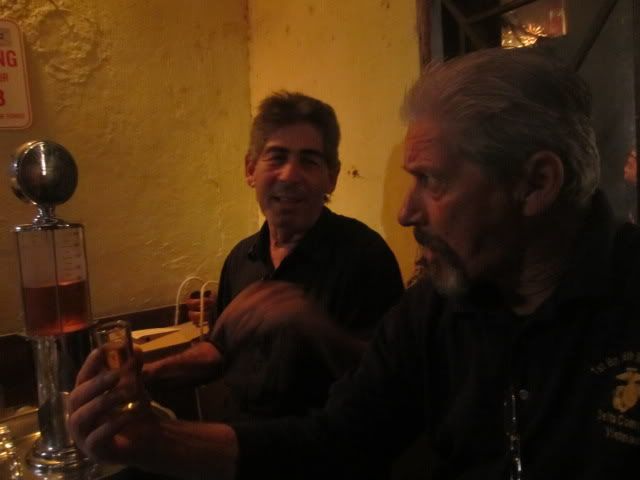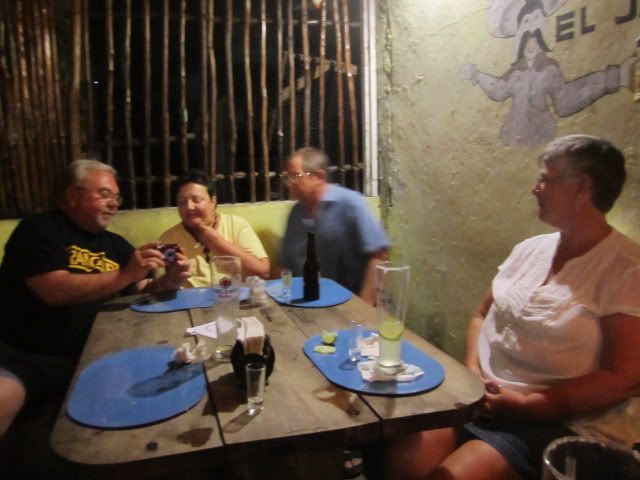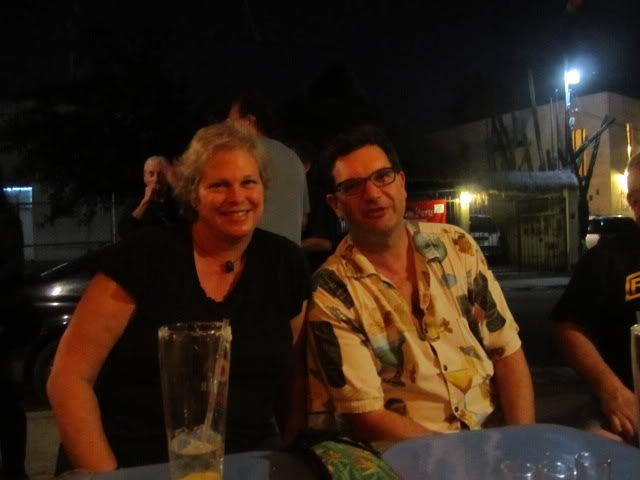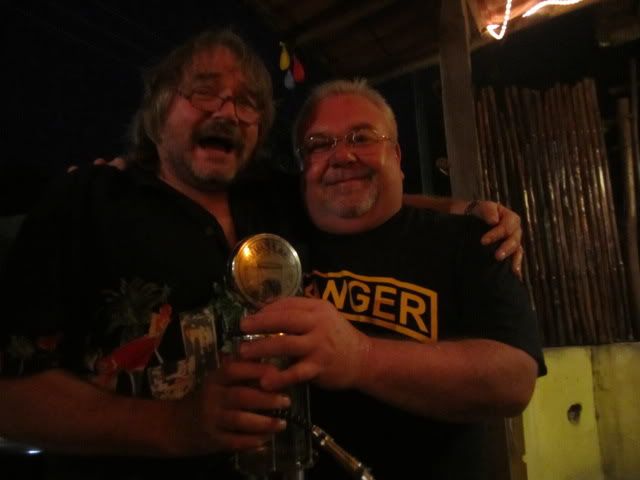 We finally, sadly, said our goodbyes, and Brian remembered to grab one of the Sol "champagne buckets" to take home, leaving the other in Steve's trunk. We'd also left a couple of coconut shells filled with copal resin that Carlos had given to us from the ceremony yesterday, so put those in the bucket and started off down the street with John and Cheryl. We wanted to hit the road early tomorrow morning, but maybe we'd try and find Bettyann and Dan first to say goodbye. They immediately appeared beside us, like magic. That called for a nightcap! Off we went to the Dirty Martini, where we had great fun before heading home before the clock struck 11. After all, we were off on a road trip tomorrow!