Monday, December 12th
Today we were going further south to an even more laid back place, if such a place could possibly exist. We weren't in such a hurry to leave Mahahual, as we had only one thing on our agenda when we got to Xcalak.
We didn't even have coffee this morning before hitting the rooftop.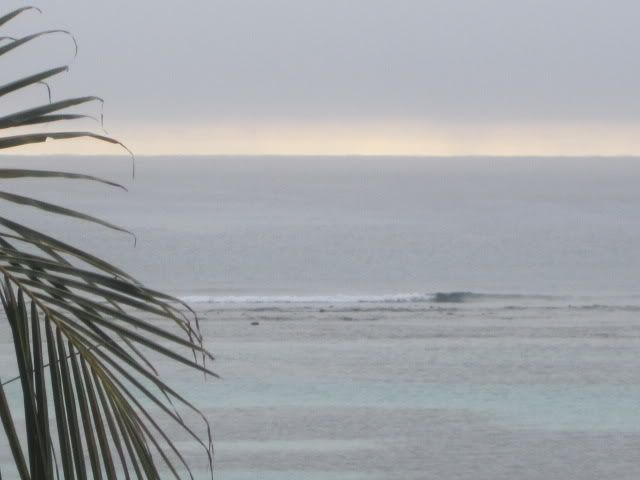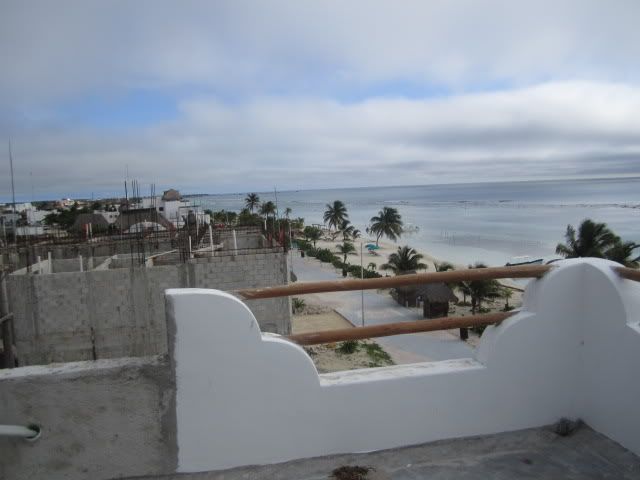 We walked over to Nacional Beach Club to have coffee with Harris and Paul and tell them we were going for one more stroll along the malecon. We decided to hit the road at 11.
Brian and I walked along and browsed a little at the only open shop in town and started back toward our hotel.
It was still a quiet scene in Mahahual this Monday- there were no cruise ships scheduled until the next day. Hungry now, we were led toward a beachside table at Restaurante Arrecifes and ordered breakfast, along with a tall glass of agua de jamaica for me and a chelada for Brian. We determined that there was really no reason to hurry away from this marvelous view, so we called Harris and Paul and pushed our departure time back to high noon.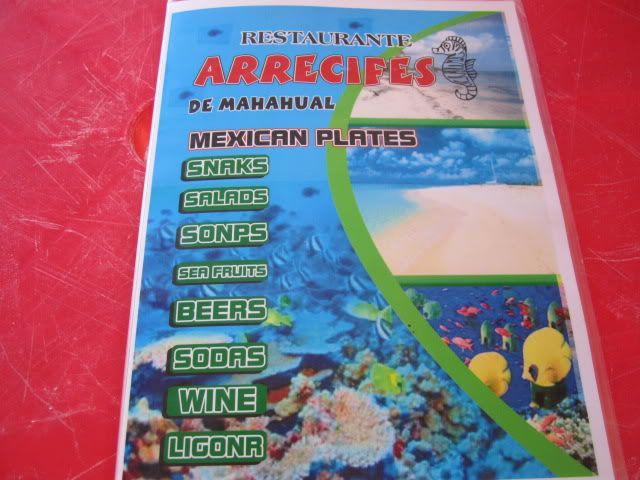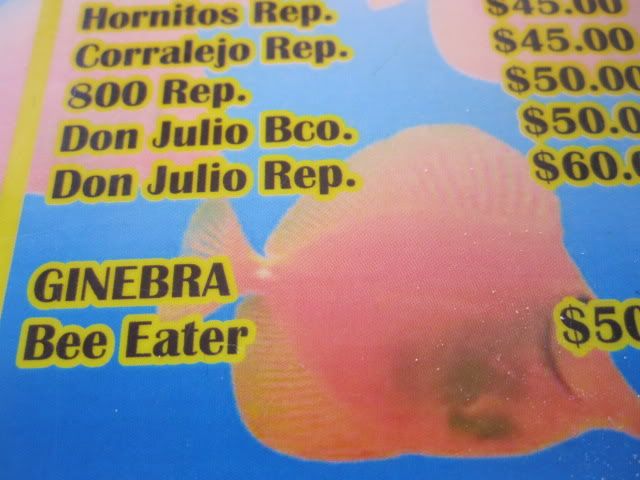 I'll have some sea fruits and a Bee Eater, por favor.
My chilaquiles rojo were some of the best I'd had so far this trip, and Brian's chaya scrambled eggs were also tasty.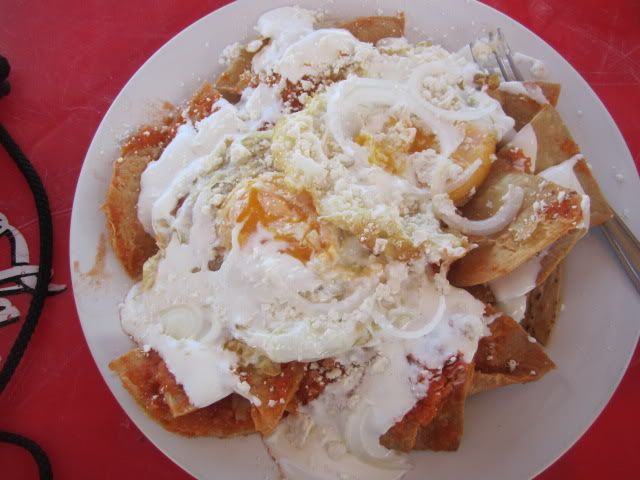 There were a few kids playing nearby with a dog. I gave them candy canes and asked if I could take their photo.
It may have been their sugar buzz or the desire to show off, but we were in stitches watching them run around after that, with the little dog nipping at their heels. We're not generally too fond of kids (sorry!), but it was just fun to sit and watch them enjoying life's simple pleasures.
We reluctantly left to go pack up the car and say goodbye to Mahahual, stopping to tell Harris and Paul we were packing the car.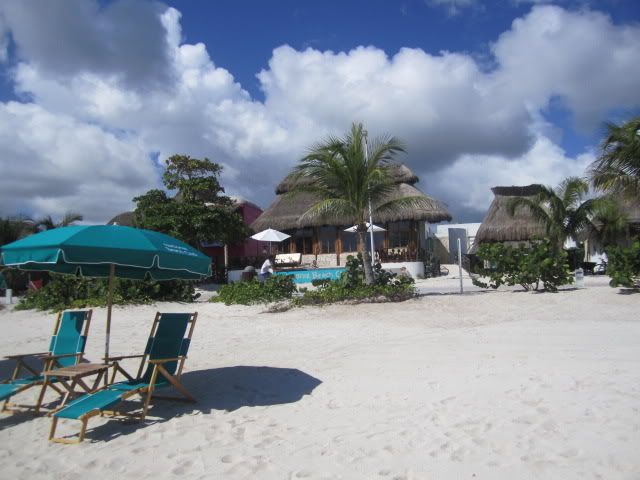 hee hee, 5 bucks at that shop up the street…
Harris & Paul's room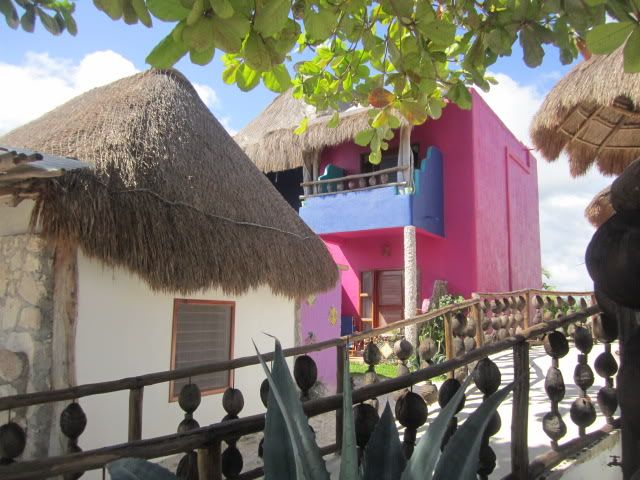 We closed up our bags and Brian admonished me for everything "I'd" accumulated, that must have weighed a ton. One duffel bag in particular was stuffed with rocks, surely (bottles more likely), and Brian invited me to pick it up. Of course I can, uggghhhhh- it didn't budge off the floor.
We'll get back to that later.
We moved the car as close as we could get to Nacional Beach Club with the construction going on, and waited. And waited.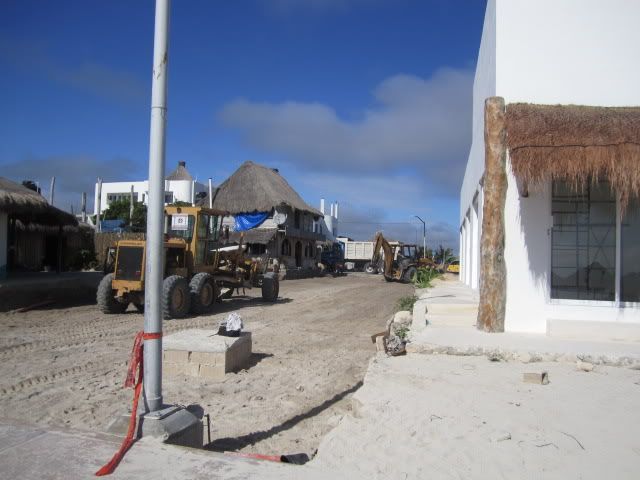 At 12:30 we called and got Paul- oh, Harris is getting a massage. A massage? Yes- she gave the housekeeper some clothing and she was so happy she offered Harris a massage. Arrggghhhh. Okay, well let's get going, please…. it's kind of dusty out here.
At 12:59 Paul comes along with their belongings in a wheelbarrow. Had to give him props for that idea, actually.
Of course nothing is packed properly still- you'd think that with everything Harris had given away on this trip they'd have had plenty of room in their bags. The back seat looked more crowded than ever. Ten minutes later we were tooling down the jungle road 60 km toward Xcalak, chewing on caramellos and blaring the Brazilian Girls.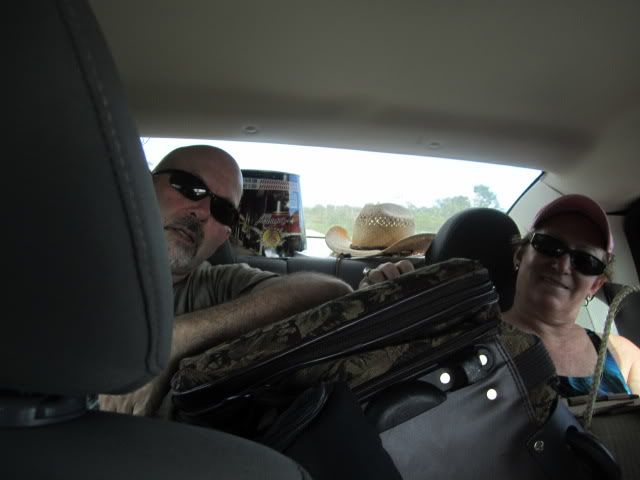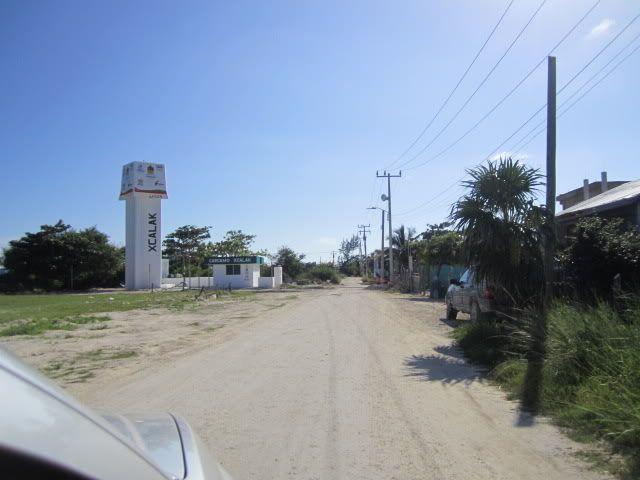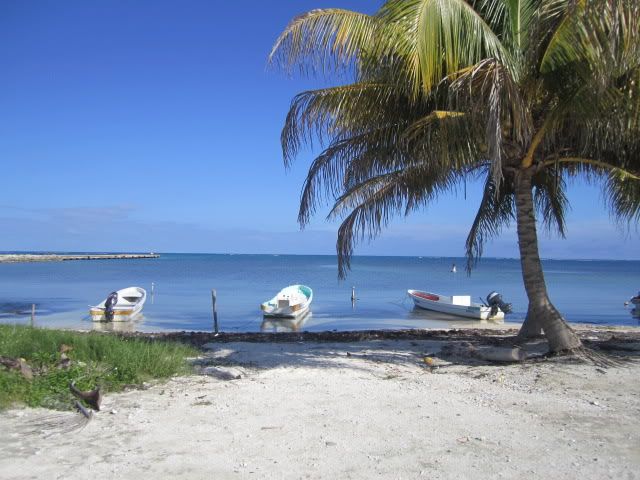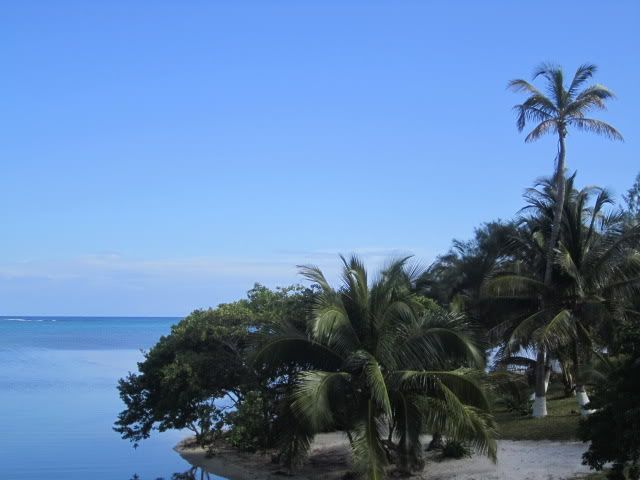 It seemed like we arrived in Xcalak in no time, and it was easy to find the way toward our hotel, as there were not too many choices. Our first and most important stop was at XTC Divers.
I was surprised to find that Jules, who I had been corresponding with, was a woman- a bubbly Australian, who confirmed our passage to Ambergris Caye, Belize for the following day. I had given her our passport information previously so that she could secure the manifest with the port captain in advance. They would assist us with going through customs and immigration once we docked in San Pedro. We paid Jules for the trip- it was actually a little less than we'd thought as they'd taken on two more passengers since we reserved. She told us that it would be a leisurely hour to hour and a half long trip through the bay and along the mangroves, and they'd pick us up at our dock at 7 a.m.
We drove a couple more minutes up the road to the
Hotel Tierra Maya
, our home for the next two nights.
We were welcomed by Benedicto and Stella, who were even more laid back than the dogs in Mahahual. We really loved this nice little hotel and the beautiful setting already.
We checked out our rooms and met in the hotel's palapa restaurant. Brian had been teasing friends, checking in on Facebook, posting beautiful photos taken along our travels. He posted a photo of our view. "I should have said it sucks to have to have such a late lunch."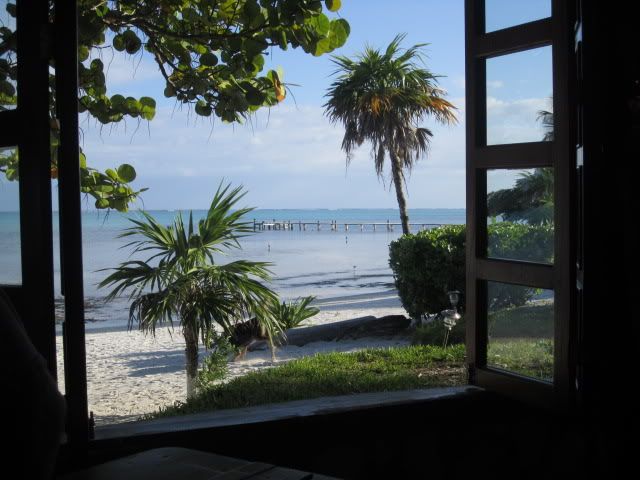 Shrimp and garlic pasta for Brian, shrimp quesadillas for me and a few Cazadore margaritas set us back 365 pesos. I think we'll never leave this place.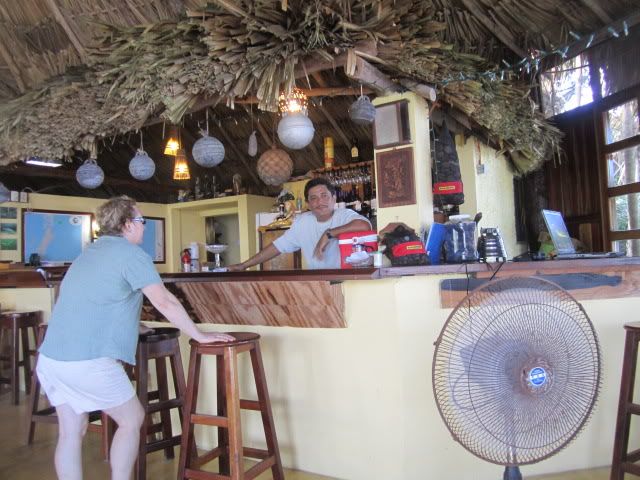 We made friends with the bartender, Eduardo, and talked about everything Xcalak. He told us that there was good snorkeling right out front, and that octopus hung out in the grass just offshore. Maybe manana- I waded a bit, and almost stepped on some jelly-like things in the shallows- jellyfish? Not sure. I thought I'd just relax and walk along the beach a little.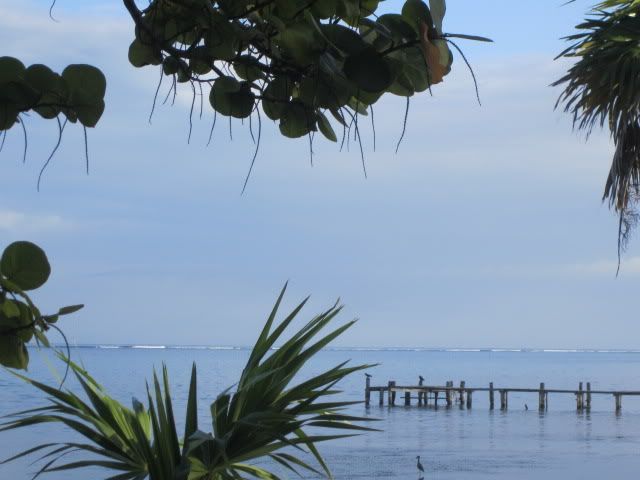 our room was on the second floor, corner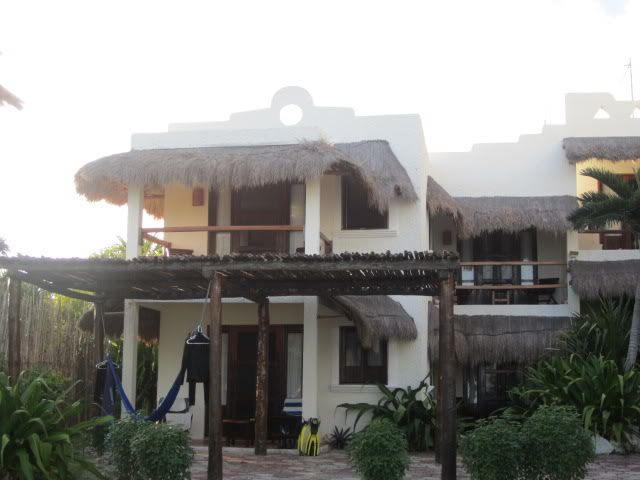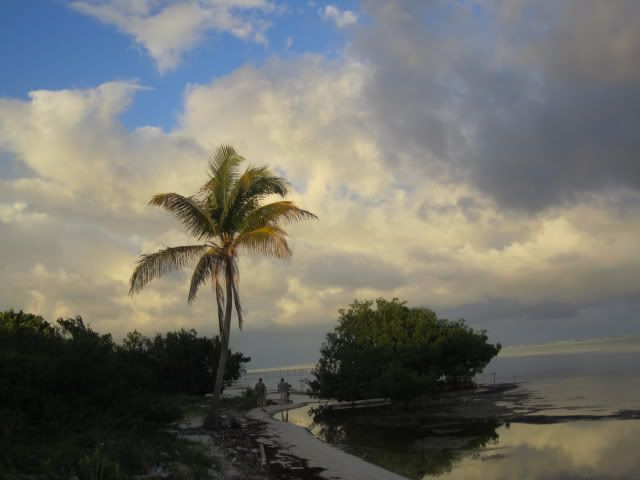 Brian had found a hammock chair and was just vegging out. Harris and Paul went off birdwatching around the corner. I tagged along for a little while, but it started getting buggy so I escaped to our balcony.
I'd been joined by a new friend and wished I could take him home and care for him.
Benedicto did not like him on his beach.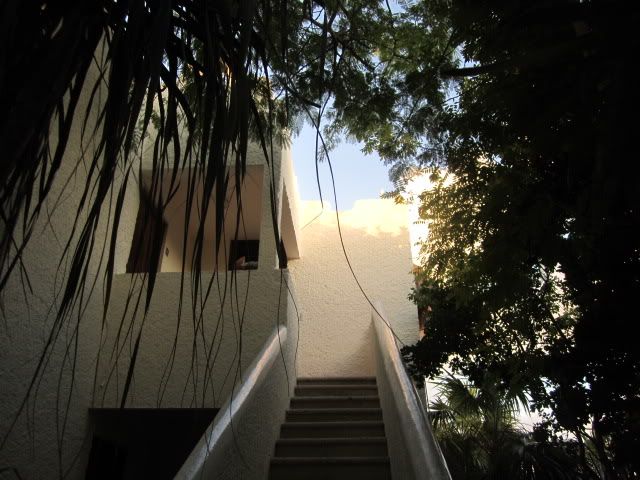 I watched the sky reflect on the glassy water like a kaleidoscope, lighting copal and a mosquito coil to ward off the bugs until I gave up and joined Brian in a siesta.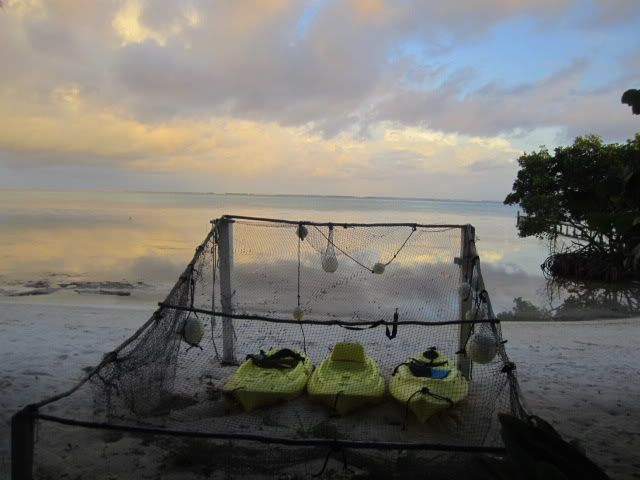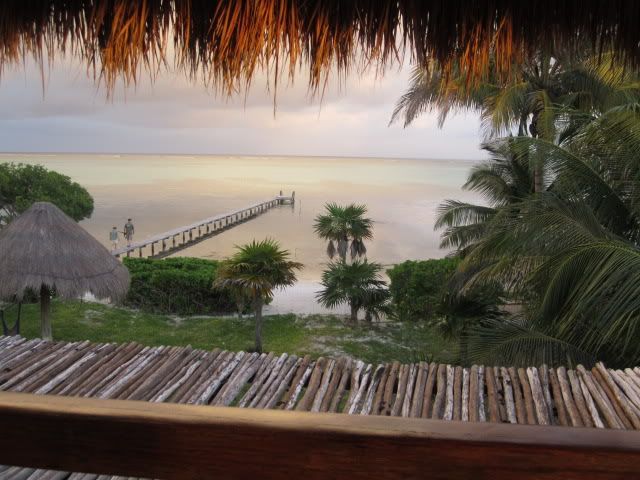 I was was looking forward to having dinner at the
Leaky Palapa
tonight. It's funny to think that a fishing village this remote has a world class, fine dining restaurant such as this. It is open for dinner Thursday through Sunday, and also on Monday with a limited menu fish fry geared toward locals.
And the locals were all there- a few families, a bunch of expats, and the crews from the local dive shops, including Jules and her friends. A couple of local musicians were strumming guitars in the corner, and the crowd was lively.
We drank martinis and margaritas, and all enjoyed platters of fish and chips except for Brian, who had a whole grilled snapper. It was simply fantastic.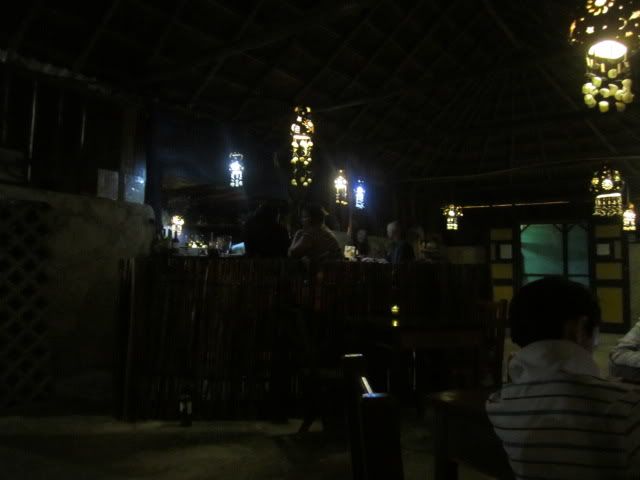 We went home, tired and happy. My lower back had started to bother me and it finally dawned on me that that darn bag Brian had me try to lift in Mahahual was the culprit. Oh well, I've never had back problems before… I'm sure it will be fine tomorrow.
I sat out on the balcony in the moonlight for a little while before bed. It felt like we were at the end of the earth.