Sorry its just me ... but now that I have your attention...
I might be jumping the gun on this but i took sometime out of my day to google search and get some ideas on a new bathing suit to take on my trip to Playa Del Carmen.
I am 40 ish year old male ... Blonde hair Blue Eyes average weight average height and sporty ... I dont have any recent pictures of my self but the last time i looked in the mirror i do recall myself looking similiar to this guy.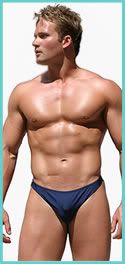 so with that in mind wich one do you all think i should choose .... please feel free to recemend one of your own.
The first one I am considering is a one piece... Love the color ....but just not sure of how I will look afterwards with the tan lines...and unfortunately I do not have a pair of brown loafers to match.
Second is the a boxer set this set is rather expensive and will have to be imported and shipped from overseas ... Im leaning in this direction but just not sure if im built right, these tend to be favorite amongst gringos traveling to Mexico.
or should I just go with what I wore last year ....