Thought I would post a quick trip report of our trip to the El Dorado Royale in 2011. We went with some friends of ours who went in 2010 and loved it and wanted to go back. Mostly pictures, few comments.
Regarding the resort:
Clean rooms, beach is so-so, breakfast is awesome, lunch is usually good, and dinner is hit or miss. Great drinks if you ask for premium alcohol. Definitely had a good time and could possibly go back another day (but there are just so many other places to try!)
now on to the trip itself:
We had a 6:30 AM flight out of Tulsa OK, connect in Dallas, then on to Cancun. A huge hail storm came in and damaged tons of planes. We were taking tequila shots at 11:00p, getting ready to pass out before we had to catch out flight, when we received notification from the airline that our flight was canceled! We called back and were put on hold for an hour and a half! We finally get through to someone and there are NO flights out of tulsa for the next 24 hours. Yikes!
So we did what any anxious vacationers would do- we decided to drive to Dallas last minute and catch our connecting flight. We had them bump us from the 9:00 flight to the 11:00 flight so we had time to make the 5 hour drive. The girls take a quick nap. My buddy and I head out to my driveway at 3AM to change a tire on his truck which had serious damage from a few days back. Fortunately, he had a full size spare so we were in good shape. We head to the gas station for essentials like donuts and coffee. Wake the girls up at 4AM, and hit the road to Dallas. Arrive at airport by 9:30 AM. We can be seen crossing into Texas here: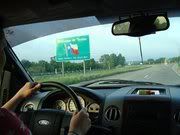 We catch our plane and arrive in cancun only 2 hours after our originally planned time. Not bad! Still no sleep for me... Finally sleep after being up for nearly 2 days!
We arrive at the resort and immediately settle in. Some photos below: