I have been wanting to check out Akumal for a while now, and this time I was going to make it happen. We got up around 9:30 and my sis asked me what we were going to do that day and I quickly replied that I was going to Akumal. She asked me, " How do you get there?" Duh...the colectivo! She had all these questions that I deemed nonsense primarily because I was the only one that lurked the forum boards around here and had a clue more or less of the ins and outs of the Riviera Maya
.
So, we packed the beach bag, grabbed a few tacos at the taco carts, and loaded up the colectivo. Super easy! The driver dropped us off at the crosswalk and we headed down to the beach...crowded on the colectivo, but beautiful beach made it worth it!
Tacos de cochinita pibil
Upon entering Akumal
Beautiful beach!
My view looking up
Tacos de pescado at Lol-Ha....they were good, nice place on the beach, a little heavier on the pocketbook if you are a "budget" traveler.
On our way out of Akumal, we had a little rain shower along the way. The colectivo was carrying a light load, so it made it nice to relax and enjoy the ride back to Playa.
We get back, shower and rest up a bit, and the anticipated hunger started to creep up on us again. So, we made our way down Calle 6 between 10th and 15th to Los Portales. We ate here during our last visit to Playa...it is a place where the locals dine, very economical and tasty, but if you are looking for efficient service, Los Portales might try your patience
. It was very eviden this particular evening that they didn't have a system in place for taking orders. I had to gesture a few times to get someone to come take our order, but the way I looked at it, it give us more "talk time" about our earlier visit to Akumal
. Like I explained to my kids, life will not always be accomodating, so you have to learn how to adapt to various situations and be patient.
We wanted beef, so we ordered Arrachera...oh, wait ..they were out. So we figured the next best thing would be fajitas, right?! Nope! We were "unpleasantly" surprised to see that it was chicken. On the plus side, the flavor didn't disappoint so we got over it. We will just know better to specify fajitas de res for next time!
Slurping down our 1 liter aguas de melon y pina. So good!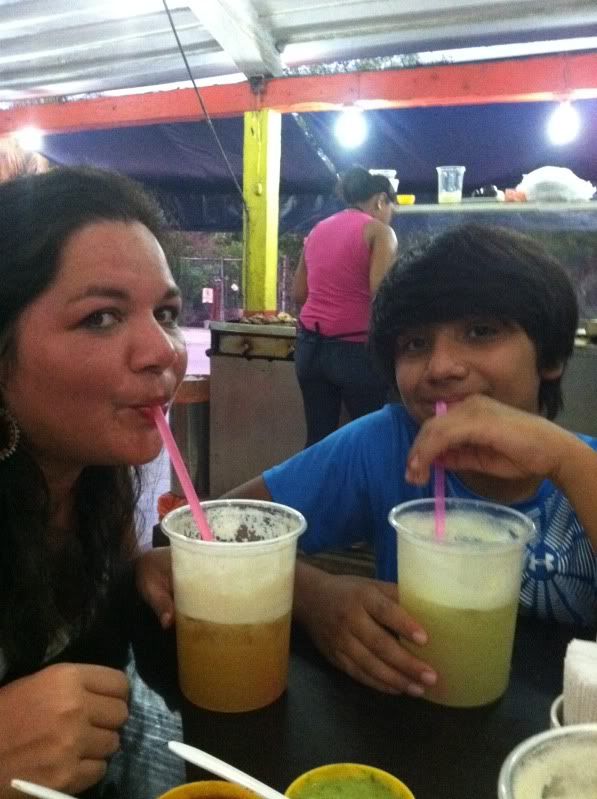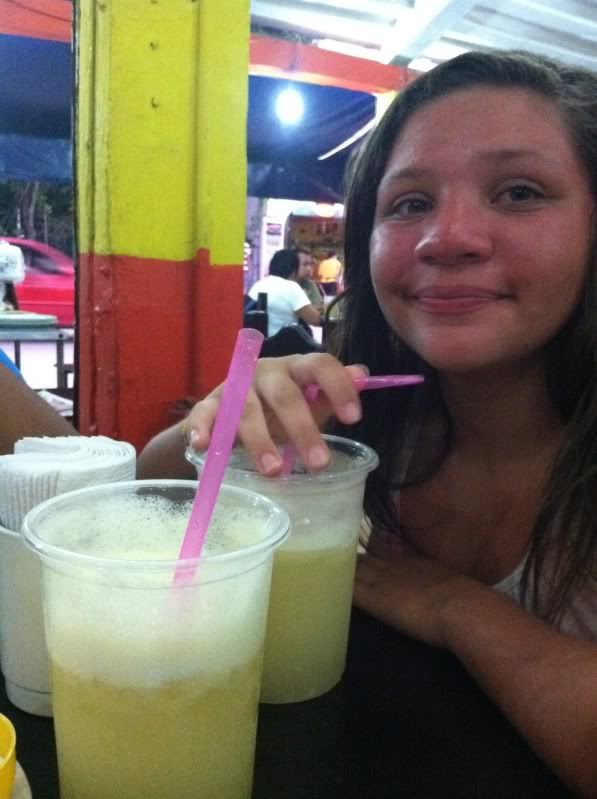 Manana...Day 4...our final day in Playa before heading out to Isla Mujeres... more pics to come!